Elon Musk says it's possible X 'might fail'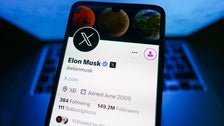 Billionaire Elon Musk admitted on Saturday that the site formerly known as Twitter, which he renamed "X," could potentially fail.
"The sad truth is that there aren't any great 'social networks' right now," Musk posted on the site. "We could fail, as so many have predicted, but we will do our best for there to be at least one."
Most recently, Musk drew backlash when he announced his plan to remove the block button from the site. The Block button allows users to choose who can see and interact with their content or profile.
"It doesn't make sense," Musk posted on the platform.
Musk's changes to the site have seen many users migrate to other social media platforms — including Threads, a new app from Meta. X threatened to sue Threads, alleging that the company "systematically, willfully, and unlawfully misappropriated Twitter's trade secrets and other intellectual property" by hiring former Twitter employees.
Meta claimed there was no basis for the claim.