Ex-DOJ official predicts more charges in Trump election subversion case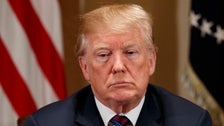 The DC Grand Jury is investigating Donald Trump's attempt to overturn the 2020 election results We're reportedly meeting again this weekand a former Justice Department official doesn't think it will bring good news for the former president.
On Sunday, MSNBC's Jen Psaki asked former acting Attorney General Neal Katyal whether he thought more charges were likely.
Katyal, who is now a legal analyst on the network, was clear in her answer.
"I do," he told the former Biden White House press secretary.
Why? "One reason is that Donald Trump's MO is obstruction of justice, interference, a single lawyer for a group of co-defendants to get them all on the same page," Katyal explained.
Watch the interview here:
"And I suspect that something similar could happen in relation to January 6th," he added.