Ex-lawyer says Trump may escape charges over secret documents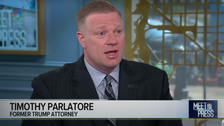 Attorney Tim Parlatore, who resigned last month from the legal team representing Donald Trump in investigating classified Justice Department documents, said Sunday he wouldn't be surprised if the former president wasn't ultimately charged.
"No, not at all," Parlatore told NBC's Meet The Press.
He said the case poses complications for prosecutors who must weigh whether certain documents should be released in order to bring charges against Trump.
"There are many additional issues or procedures that one has to go through in such cases," Parlatore added. "And especially when it's politically sensitive."
Parlatore's assessment is at odds with other legal experts, who said Trump will most likely face criminal prosecution if Special Counsel Jack Smith completes his investigation.
Smith is investigating whether Trump broke the law related to classified documents and whether he obstructed government efforts to recover the files after leaving the White House. Trump has denied wrongdoing.
"We should keep an eye on the prosecution," former prosecutor Glenn Kirschner told MSNBC's Jen Psaki.
Parlatore likened the Trump case to an investigation into Hillary Clinton's use of a private email server for government business while she was Secretary of State.
"Even if he did a lot of the things they say he did," Parlatore said, Trump shouldn't be impeached for the same reasons he felt Clinton was rightfully not impeached in 2016 .
"I felt that Hillary Clinton shouldn't be prosecuted because there are all these other issues," he said. "The classification is not binding for the jury. You actually have to take those documents, show them to the jury, and then prove to them that it's national defense information."
The FBI exonerated Clinton in the summer of 2016, but then-director James Comey reopened the investigation before the presidential election because he said a separate investigation had uncovered more emails. Just days before the election, Comey told Congress The FBI's review of these emails did not change the agency's earlier conclusion that the then-Democratic presidential nominee was not criminal.
Comey has been accused of contributing to Trump's narrow victory in that election.
Parlatore's meeting with Chuck Todd comes as the federal grand jury in the documents case meets again this week, suggesting Smith is nearing the end of his investigation. according to NBC News.
Last week, CNN reported Prosecutors had obtained a July 2021 tape of Trump discussing a sensitive Iran-related military document, suggesting he knew it was confidential. The evidence could undermine the former president's defense that he declassified the files he took from the White House.
Parlatore left Trump's legal team last month, citing disagreements between the various attorneys.
"The real reason is because there are certain individuals who have made defending the president much more difficult than it needs to be," Parlatore told CNN at the time.