Ex-prosecutor highlights 'dagger in heart' moment for Trump attorney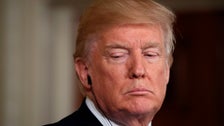 Former prosecutor Glenn Kirschner on Monday accused Donald Trump's attorney John Lauro of making false arguments in his unsuccessful attempt to delay the trial in the former president's election interference case.
Lauro "did himself a disservice," Kirschner, a former US Army prosecutor and current legal analyst for MSNBC, told the station's Joy Reid.
"He was a bomb thrower. It sounded like he was making his arguments to Donald Trump's base, not the judge," he added.
Chutkan described Lauro's claim that in some cases it took months and months to reach court as "misleading," said Kirschner, who was there when the trial date was announced.
Kirschner noted that there were some cases during the pandemic, but that's not common today.
"I'm sure people would agree that it's a stab in the heart when a judge tells you you've included something in a complaint that is 'misleading.' We don't take it kindly. ' said Kirschner. "But that's what she told the defense attorney. And she was right."