Expert says photo of King Charles, Prince William, Camilla and Kate sends clear message to Prince Harry and Meghan Markle
The Royal Family just showed the world what the present and future of the monarchy look like with the release of a photo of King Charles III, Queen Consort Camilla (formerly Camilla Parker Bowles), Prince William and the Princess of Wales (formerly Kate Middleton ) stand next to each other.
Now, a royal expert says the photo is also meant to send a specific message to Prince Harry and Meghan Markle, more than 5,000 miles away.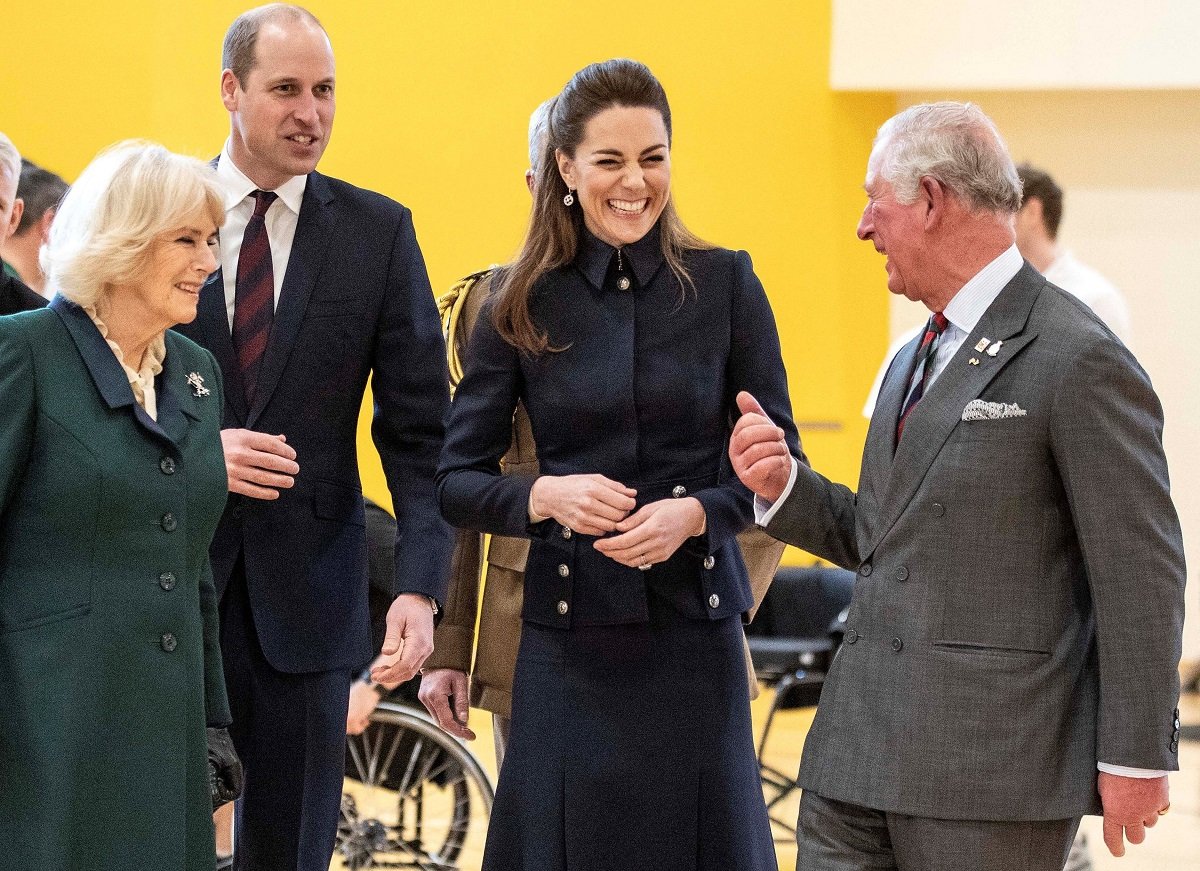 What a body language expert noticed about the new portrait
On October 1, the palace released the portrait of King Charles, Prince William and their wives. It was originally recorded on September 18 before the heads of state reception at Buckingham Palace, attended by US President Joe Biden and French leader Emmanuel Macron.
Body language expert Judi James analyzed each of her poses and their meaning.
"[Prince William's] legs apart and the way his hands are clasped in front of his torso create a pose of attentive waiting," she told Express. "It's the kind of pose you see from staff in hotel lobbies and it could signal his role as a supporter and stand-in for his father. It looks dutiful and Catherine's arm around his back suggests that she is there to support him in turn."
As for King Charles and Camilla, James pointed out that their poses appear more affectionate than those of the Prince and Princess of Wales, which is an "unusual public display of affection" for the sovereign.
She added that the photo of the four senior royals gave the impression that the monarchy was "in safe hands for at least another generation."
Royal expert says the photo sends a message to Prince Harry and Meghan
Richard Kay, Daily Mail diary editor and royal expert, said the "hint of a smile" on the new king's face showed he was "not discouraged" by what lay ahead. And according to Kay, the release of the portrait also sends a direct signal to Prince Harry and Meghan that there is "no going back" for them now.
"It's not hard to imagine how this image will be viewed in sunny California, where the Duke and Duchess of Sussex are based. Could it deepen their feelings of marginalization and exile, or is it just to remind them why they decided to break up with family in the first place?" Kay wrote in the Daily Mail.
"It certainly can't be a coincidence that the photo was taken while the couple were still in the UK and a few days before they returned home to their children Archie and Lilibet. It must therefore be another signal that they will never return to their central role in royal life."
Harry seemed to want a bigger role at Queen Elizabeth's funeral
James noted that Harry did something during Queen Elizabeth's state funeral that showed he was trying to come to terms with not playing a more active role in it. She watched the Duke of Sussex make a certain gesture that suggested he wanted a bigger share.
"After the coffin next to his brother, there were some suppressed signs of tension, like the pursed lips," James told The Sun. "But when the coffin was lowered [Harry] repeated the shoulder roll gesture from the last walk. Not only did he appear to be bracing or arming himself for the service inside, but he mimicked the gesture of the pallbearers in an apparent desire to take a more active role himself."
Showbiz Cheat Sheet recognizes that conditions and cultures can affect body language and is sensitive to all backgrounds
RELATED: Prince Harry and Meghan Markle 'angry' as they leave the UK for treatment during Queen Elizabeth's funeral, royal biographer says
https://www.cheatsheet.com/entertainment/expert-says-photo-king-charles-prince-william-camilla-kate-sends-clear-message-prince-harry-meghan-markle.html/ Expert says photo of King Charles, Prince William, Camilla and Kate sends clear message to Prince Harry and Meghan Markle