Families want answers after 38 migrants were killed in fire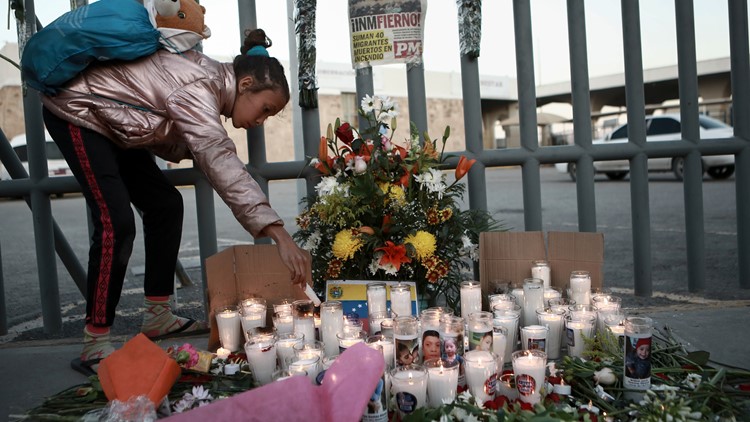 According to Mexican authorities, migrants fearing deportation set fire to mattresses in the center, igniting the fire.
CIUDAD JUÁREZ, Chihuahua – As smoke from an a detention center for migrants In the Mexican border town of Ciudad Juarez, Venezuelan migrant Viangly Infante Padrón was horrified because she knew her husband was still at home.
The father of her three children was picked up by immigration officers earlier in the day, part of a recent crackdown that had netted 67 other migrants, many asking for handouts or washing car windows at traffic lights in this city across the Rio Grande Baten El Paso, Texas.
In moments of shock and horror, Infante Padrón recounted how she saw immigration officers storm out of the building after the fire broke out late Monday. Later came the bodies of the migrants, carried on stretchers, wrapped in foil blankets. The number: 38 dead and 28 seriously injured, victims of a fire apparently set by the prisoners themselves in protest.
"I was desperate because I saw a corpse, a corpse, a corpse, and I didn't see him anywhere," Infante Padrón said of her husband Eduard Caraballo López, who ended up surviving with only minor injuries, perhaps because he was supposed to be released and was near a door.
But what she saw in those first few minutes has become the focus of a question Mexico wonders: Why didn't the authorities try to release the men – almost all from Guatemala, Honduras, Venezuela and El Salvador – before smoke filled the room and killed so many?
"There was smoke everywhere. The ones who let them out were the women and the (employees) with immigration," Infante Padrón said. "The men never took them out until the firefighters arrived."
"They alone had the key," said Infante Padrón. "The responsibility was on them to open the bar doors and save those lives, regardless of whether there were detainees, regardless of whether they would run away, regardless of whatever happened. You had to save those lives."
Immigration officials said they released 15 women when the fire broke out, but have not explained why no men were released.
Pope Francis offered prayers for the victims who died in the "tragic fire" at the end of his general audience on Wednesday.
Surveillance video leaked on Tuesday shows migrants, who reportedly fear they will be relocated, laying foam mattresses against the bars of their detention cell and setting them on fire.
In the video, later confirmed by the government, two people dressed as guards burst into the camera feed and at least one migrant appears at the metal gate on the other side. But the guards don't seem to bother opening the cell doors, instead rushing away as billows of smoke fill the building in seconds.
"What humanity do we have in our lives? What humanity have we built? Death, death, death," Bishop Mons thundered. José Guadalupe Torres Campos at a mass to commemorate the migrants.
Mexico's National Immigration Institute, which ran the facility, said it was cooperating with the investigation. Guatemala has already said many of the victims were its citizens, but full identification of the dead and injured remains incomplete.
US authorities have offered to help treat some of the 28 victims in critical or serious condition who appear to have been caused by smoke inhalation.
For many, the tragedy was the predictable outcome of a long series of decisions made by leaders in places like Venezuela and Central America, and by immigration politicians in Mexico and the United States, as well as residents of Ciudad Juarez who complained about the number of migrants arriving asking for alms on street corners.
"You could see it coming," more than 30 migrant shelters and other advocacy groups said in a statement Tuesday. "Mexico's immigration policy kills."
The same advocacy groups published an open letter on March 9, complaining about the criminalization of migrants and asylum seekers in Ciudad Juárez. She accused authorities of abusing migrants and using excessive force to round them up, including complaints that city police questioned people on the street about their immigration status without reason.
President Andrés Manuel López Obrador expressed his condolences on Tuesday, but gave little hope of change.
He said the fire was set by migrants in protest after learning they were being deported or resettled.
"You never thought that this would cause this terrible calamity," said López Obrador.
Immigration activist Irineo Mujica said the migrants feared being turned back, not necessarily to their home countries but to southern Mexico, where they would have to cross the country again.
"When people reach the north, it's like a ping-pong game — they send them back south," Mujica said.
"We had said that the sheer number of people they sent created a ticking time bomb," Mujica said. "Today this time bomb exploded."
The migrants were stuck in Ciudad Jaurez because US immigration policies do not allow them to cross the border to apply for asylum. But they were rounded up because Ciudad Juarez residents were tired of migrants blocking border crossings or asking for money.
The high level of frustration in Ciudad Juarez was evident earlier this month when hundreds of mostly Venezuelan migrants attempted to force their way across one of the international bridges into El Paso, responding to false rumors that the United States would bar them entry would allow into the country. US authorities blocked their attempts.
After that, the mayor of Ciudad Juarez, Cruz Pérez Cuellar, launched a campaign to inform migrants that there is space in shelters and that they don't have to beg on the streets. He urged residents not to give them money and said authorities had removed migrant crossings where begging was dangerous and residents viewed the activity as a nuisance.
For the migrants, the fire is another tragedy on a long trail of tears.
About 100 migrants gathered outside the doors of the immigration office on Tuesday to demand information about relatives. In many cases, they asked the same question that Mexico asks itself.
Katiuska Márquez, a 23-year-old Venezuelan with her two children, ages 2 and 4, was looking for her half-brother, Orlando Maldonado, who had traveled with her.
"We want to know if he's alive or if he's dead," she said. She wondered how all the guards who were inside got out alive and only the migrants died. "How could they not get her out?"
Verza reported from Mexico City. Associated Press video journalist Alicia Fernández and writers Guadalupe Peñuelas in Ciudad Juarez, Mark Stevenson in Mexico City, Sonia Pérez D. in Guatemala City, and Elliot Spagat in San Diego contributed to this report.
https://www.kvue.com/article/news/nation-world/38-dead-mexico-fire/507-50b49440-a5d9-41bf-8b62-29ac50c87288 Families want answers after 38 migrants were killed in fire