Fighter jet shoots down Russian missile towards Ukraine: Luftwaffe
This was announced by the Ukrainian Air Force in a translated Facebook post news week on Tuesday that it shot down seven Russian missiles in the latest setback to President Vladimir Putin's military.
Russia allegedly launched the missile strike around 5 p.m. local time on Tuesday from somewhere near the Caspian Sea using Tu-95 strategic bombers, the post said. In total, Ukraine said eight cruise missiles were fired at central, southern and western Ukraine. But Ukraine shot down seven of the eight missiles, the Post said.
Six of them were "eliminated" by anti-aircraft missiles, while one was shot down by an Air Force fighter jet, Ukraine said. The Air Force noted that the eighth missile hit an anti-aircraft missile complex in the Lviv region, adding that the military continues to assess damage and casualties from the attack.
Further details, including the type of fighter jet used to knock out the Russian missile, have not been released by Ukraine. The target of the missiles is unknown. news week was unable to independently verify the Ukrainian Air Force report and contacted the Ukrainian and Russian foreign ministries for comment.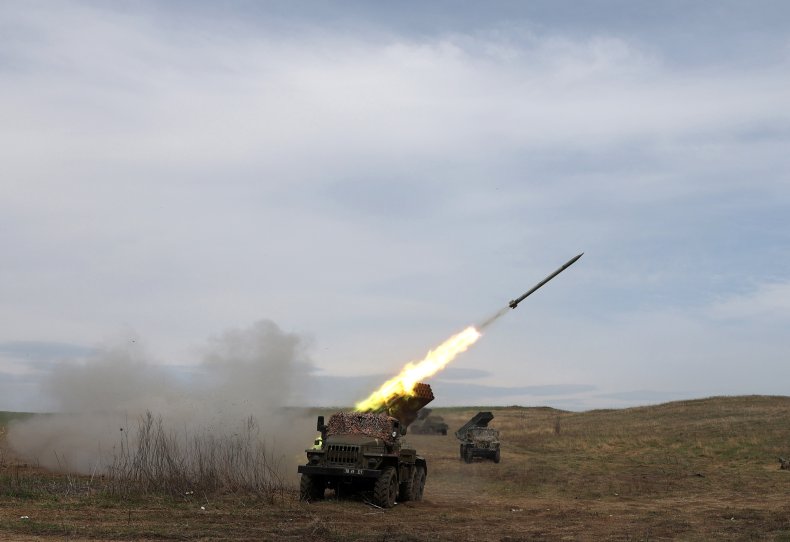 Putin launched the invasion of Ukraine on February 24 in hopes of a quick takeover of its eastern European neighbor, whose military is much smaller than Russia's. However, Russian troops encountered a stronger than expected response from Ukraine, which has since been backed by the West.
Putin tried to justify the invasion by saying it intended to "liberate" Donbass, a separatist region in eastern Ukraine, and rid the Ukrainian government of Nazis, even though Ukrainian President Volodymyr Zelenskyy is Jewish.
After months of fighting, Ukrainian soldiers have pushed the Russian military back into the easternmost part of the country. Battlefield fighting remains under contract in the eastern part of Ukraine, although Russia continues to conduct strikes elsewhere in the country.
The missiles allegedly shot down by Ukraine on Tuesday are the latest casualties of the Russian military. Ukraine publishes its estimates of Russian casualties every day. Ukraine said it shot down 174 Russian cruise missiles in the more than five months of the conflict. According to the Ukrainian Defense Ministry, 1,768 tanks, 223 aircraft, 15 boats and nearly 3,000 other vehicles were also destroyed. Russia does not publish its losses and Ukraine's estimates cannot be independently verified.
On July 5, a video circulated on social media that appeared to show Ukraine launching six Russian missiles aimed at the city of Dnipro.
https://www.newsweek.com/fighter-jet-shoots-down-russian-missile-heading-ukraine-air-force-1730229 Fighter jet shoots down Russian missile towards Ukraine: Luftwaffe