Firms still trading with Russia face future legal action: Zelensky Adviser
Ukrainian President Volodymyr Zelenskyy's top economic adviser has condemned European countries that are still buying Russian gas and oil, claiming those involved, including lawyers and bankers for oligarchs, are supporting war crimes.
Oleg Ustenko called the lack of an immediate embargo on Russian imports by Western economies "unacceptable" in an exclusive interview with the US. observer.
"If Russians commit war crimes, even genocide, then whoever is providing Russia with this damn money is committing the same war crime," Ustenko said in a note published on theguardian.com.
He promised that companies trading with Russia would face legal action in the future.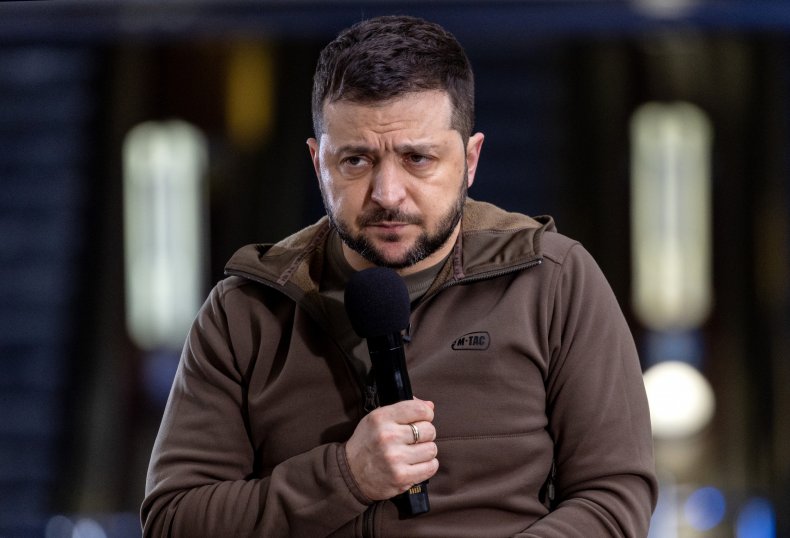 "We know the name of the ship, the flag, the name of the captain, the amount of oil, we know how much money was paid for this oil, the port of destination, the company that sold the insurance," Ustenko said. "We will work with this information. We have other things to do that are much more urgent now, but we are watching everyone who is doing it.
"We believe that if corporations commit war crimes, we will prosecute and sue all of these people. Maybe in a year, maybe 10 years, but we'll find those people."
Estimating revenues from Russian oil and gas sales at $1.4 billion a day, Ustenko warned that those who support Russia's continued sales would face legal action in the future, noting that Kyiv monitors companies trading with Russia and would sue involved commodity traders and insurers.
As a plea for tougher international sanctions, the economic adviser also called for measures such as the sale of frozen assets.
"People in Europe … believe that they can help us, that they are our great friends, and they are," Ustenko said. "But they don't understand that by providing this money to Putin, they are funding his military machine. They use it to kill us, to do the horrible things they did in Bucha and other places."
Ustenko addressed the announcement last week that Berlin would stop importing Russian oil by the end of 2022 and eliminate gas thereafter, according to German Foreign Minister Annalena Baerbock, noting that the measures were not fast or comprehensive enough.
"The message … was completely unacceptable that the Germans are still willing to pay for the killing of our people," he said.
Ustenko said oil imports could be halted overnight but that weaning Europe off gas would be more difficult. He suggested the proceeds be held in escrow for Russian suppliers to access after the war ended.
In addition, Ustenko called on insurers, global commodity trading houses, lawyers and bankers serving oligarchs allied with the Kremlin.
"Of course we get a lot of support, but that can never be enough. Tankers lifting Russian oil are insured from London," he said. "We don't understand and we don't want to see how many Ukrainians have to be killed [before something is done]. It worries me that we always talk about money when it comes to Europe. In Ukraine we talk about human lives."
Lloyd's of London, which the company describes as the "world's leading insurance market," said through a spokesman that it "remains supportive and focused on the implementation of a global sanctions regime against the Russian state that sends an important message that Russia's invasion a peaceful country is unacceptable."
Four global commodity traders are still buying and selling shipments of Russian oil, Trafigura, Glencore, Vitol and Gunvor, the said observer They condemn the invasion and do not sign new treaties, but are legally bound by existing treaties.
Ustenko pleaded in personal letters to senior officials of major traders, urging them to stop doing business with Russia, he said. While some didn't reply, other replies included broken promises to cut ties.
Bankers and lawyers working for Russian oligarchs should imagine what it would be like if their families suffered as much as those in Ukraine.
"Will you accept that? If so, then do nothing for us. If you think it's immoral, then act immediately. Even if your government doesn't understand, you have the power."
Regarding Ukraine's defense and post-war reconstruction, he believes they should be funded by seizing the frozen assets of sanctioned billionaire oligarchs, along with those of Russia's central bank.
"I'm talking about football clubs, I'm talking about beautiful apartments, houses, I'm talking about other properties in the UK," he said.
https://www.newsweek.com/firms-still-trading-russia-face-future-legal-action-zelensky-adviser-1700359 Firms still trading with Russia face future legal action: Zelensky Adviser