Flaming drone cuts power to thousands after crashing into power line
Thousands of people were left without power after a food delivery drone crashed into an 11,000-volt power line in Australia.
The incident, which took place on September 29 in Browns Plains, Queensland, was described as a first by energy company Energex, which was working to restore power.
The drone was shredded in the incident and fell off the power lines by itself. "So we didn't actually have to put the drone down, it actually caught fire and self-immolated," Energex spokesman Danny Donald told the Australian newspaper Age.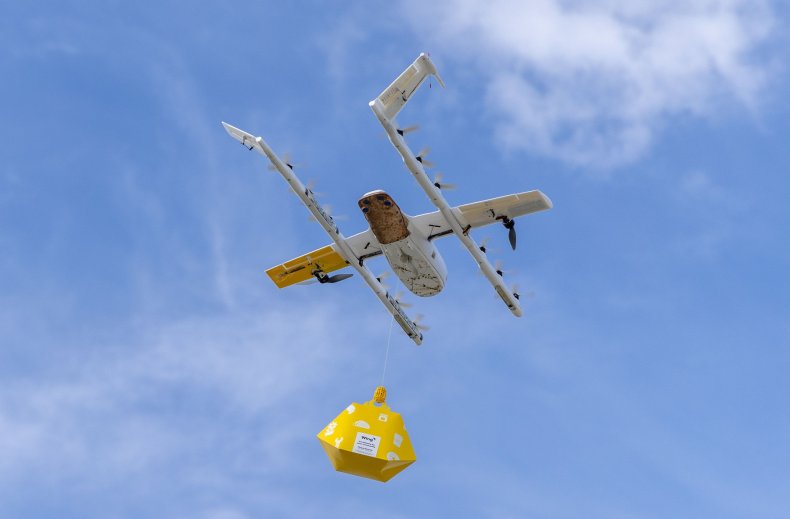 The drone was operated by the delivery company Wing, which transports groceries and medicines to paying customers via autonomously flying drones. It went live in Australia in 2019 and also expanded to the US and Finland. As of this month, Wing, which is owned by Google parent Alphabet, has made 250,000 deliveries worldwide.
A spokesman for Wing said news week on September 30: "We can confirm that a Wing drone made a precautionary controlled landing yesterday in Browns Plains, Queensland and stalled on a power line.
"We immediately reported this to Energex, who were on site. Two hours later, during the retrieval process, there was a power outage in the area. We apologize for any inconvenience. We are currently conducting a review of yesterday's event."
Energex restored power to around 2,000 people in about 45 minutes, but 300 in close proximity to the drone were without power for three hours.
Speaking to Australian news agency ABC, Donald said there didn't appear to be any permanent damage, but if network damage were caused in the future Energex could recover the cost of the damage.
"Fifteen years ago we asked people to be careful when giving their kids kites for Christmas and where they let them fly. Now we are asking parents to be very careful about where their children fly their drones," he said.
Drone delivery networks like Wing are growing in popularity. In May of this year, retail giant Walmart announced that it will be expanding its drone delivery network in partnership with DroneUp to 34 locations by the end of the year, potentially reaching four million US homes in Arizona, Arkansas, Florida, Texas, Utah and Virginia.
Walmart says customers can order from a list of tens of thousands of items, including groceries and household products weighing up to 10 pounds, between 8 a.m. and 8 p.m. for a delivery fee of $3.99.
https://www.newsweek.com/wing-delivery-drone-power-line-australia-1747784 Flaming drone cuts power to thousands after crashing into power line