Florida Democrats are pushing a plan to halt DeSantis migrant flights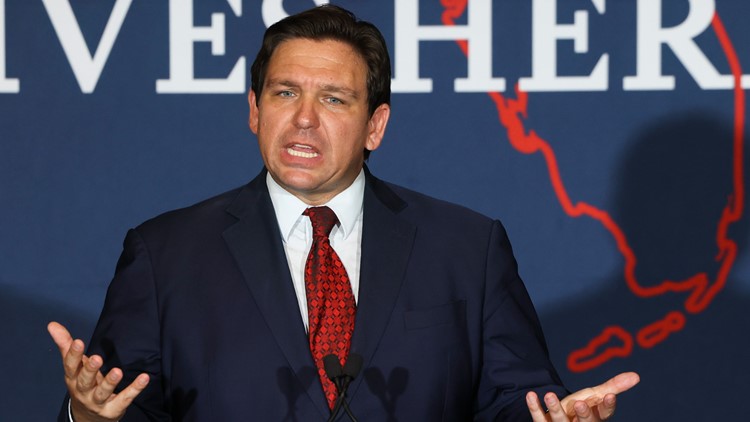 Democrats say Florida Gov. Ron DeSantis is mistakenly using taxpayer money to ship migrants elsewhere.
TALLAHASSEE, Fla. — Democratic leaders in Florida said they have outlined a plan for the state legislature to follow orders from Florida Gov. Ron DeSantis to end the transportation of migrants to other locations.
The plan comes after dozens of migrants arrived in Martha's Vineyard on behalf of DeSantis on Wednesday afternoon. The 50 migrants, made up of men, women and children, were flown to Massachusetts on two planes as part of what the Florida governor is calling the state's resettlement program.
Democratic leader Evan Jenne, who represents the 99th district in Florida, and Democratic leader-elect Fentrice Driskell, who serves the 63rd house district in Hillsborough County, said in a press release that they urged state legislatures to promote DeSantis to stop the misuse of taxpayers' money for transporting migrants other states.
"It appears that migrants were taken from Texas, brought to Florida, and then sent to Massachusetts for political purposes," Jenne and Driskell explained in a letter to Republican House Speaker Chris Sprowls and Republican Chairman Jay Trumbull which they asked for government funding. "It's crystal clear that it [Section 185] was not intended to use federal funds to transport migrants into the state only to deport them to Massachusetts.
"This law is clearly at odds with the policy set out in the budget."
Democratic leaders repeated What DeSantis said: He plans to use all of the money funded in the program to continue the relocation program in Florida.
Records show that the state of Florida paid $615,000 to an Oregon-based airline as part of the "Relocation Program to Transport Illegal Immigrants to Safeguard Destinations."
"The claim that these people could Wanting to come to Florida is not a sufficient reason to intercept, deceive and transport asylum seekers two thousand miles," Jenne and Driskell explained in the letter. "…The governor has stated that he intends to 'spend every penny.' from the available $12 million him from this program.
"That's why we ask you to stop this inappropriate use of taxpayers' money before it happens again."
The letter from Democratic leaders and their outline of the plan to stop DeSantis from trucking migrants was announced Monday morning via Zoom to the Florida Legislature, which can be viewed by clicking here.
https://www.kvue.com/article/news/politics/florida-democrats-migrant-flights-governor-ron-desantis/67-9497b06c-5a59-4064-8e46-d851eaa08b5f Florida Democrats are pushing a plan to halt DeSantis migrant flights