Florida Democrats hold protest outside of Dave Rubin event with Ron DeSantis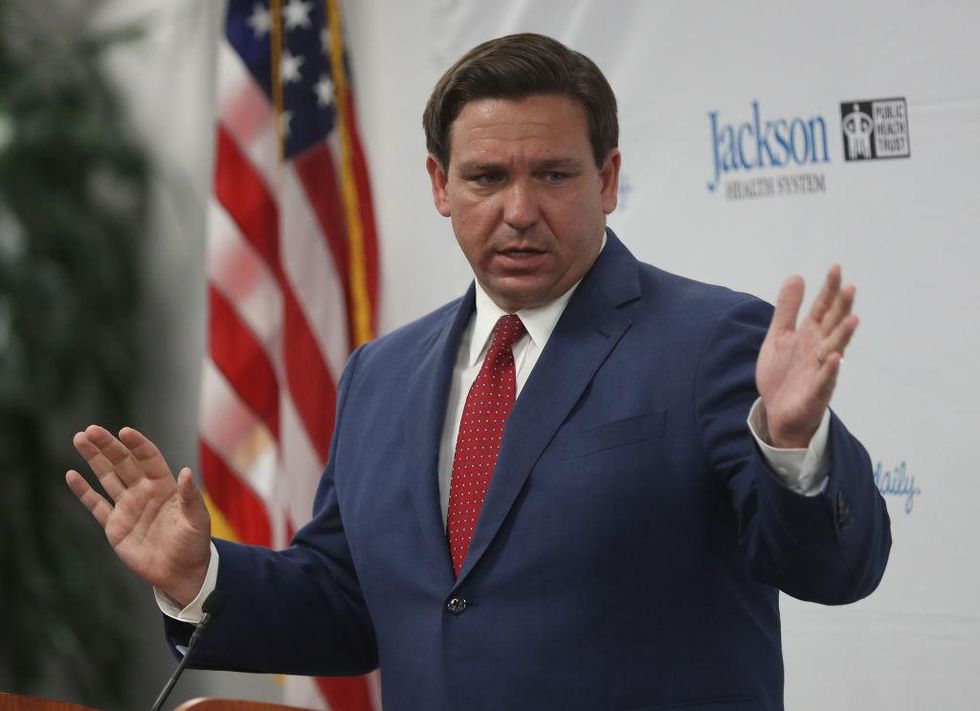 Florida Democrats plan to protest Thursday night in Orlando at an event featuring BlazeTV host Dave Rubin of The Rubin Report and Republican Gov. Ron DeSantis.
Democratic State Assemblyman Anna Eskamani said Thursday that protesters will "hold the governor accountable for his extreme agenda." tweet Sharing details about the demonstration, including a meeting time and meeting point at 6:45 p.m. ET on the public sidewalk outside of the venue.
A event description The Facebook protest read: "Once again, Gov. Ron DeSantis and his alt-right bully brigade are coming to Orlando. And we want to make sure he knows who we are in Orlando and that we stand up to his extreme agenda."
"Join us in front of The Plaza Live as we let him know: we are WOKE, we say gay, trans, bi, lesbian and queer, we believe Black Lives Matter, we support reproductive freedom and a person's right to an abortion. we demand sound gun safety reforms, economic justice and that he is not welcome in our community," wrote the Orange County (FL) Democrats.
"Bring your best signs and be ready to cause some trouble," the group added.
In a statement to TheBlaze, Rubin welcomed peaceful protesters but suggested their time could be better spent listening rather than demonstrating.
"Peacefully protesting is the cornerstone of living in a free society. I applaud the protesters to exercise their right to free speech as long as it does not interfere with the event," Rubin said.
"Perhaps it would be better to use their time to actually attend the event and hear what we had to say. They wouldn't hear anything that came close to hate or bigotry, but they would hear a lot about liberty and liberty here in the great state of Florida," he added.
DeSantis, one of the nation's most conservative Republican governors, has come under fire from the left for his support of Florida's parental rights in education. The law prohibits classroom discussions of sexual orientation or gender identity in kindergarten through third grade and restricts instruction on these topics to age- and developmentally appropriate attitudes in higher grades.
Critics mistakenly dubbed it the "Don't Say Gay" law, and the mainstream media adopted that name for it, leading many to mistakenly believe that the law intended to make recognition of the "existence" of LGBT people illegal. This led to allegations that DeSantis was anti-gay, hated, or otherwise bigoted towards LGBT people.
During Thursday's event, the governor will be interviewed by Rubin, host of "The Rubin Report" on BlazeTV, as part of Rubin's book tour for Don't Burn This Country, a book criticizing "woke" left-wing politics and to "Americans to live the freest life."
Eskamani slammed The Plaza Live for hosting the event last week, complaining that DeSantis is visiting "one of the most #LGBTQ+ friendly parts of Orlando and also during Pride Month."
"Orlandoans deserve better than this culture war BS," she wrote on Twitter.
Rubin, a married gay man, responded to Eskamani on Twitter, inviting her to the event as his guest. She responded that she would only accept the invitation if she "can get on the stage and discuss both you and DeSantis," but Rubin declined her request.
"I'm not giving you a second of that time," Rubin said. "I invited you to see what liberty, liberty and Florida is really about. I'll be happy to discuss you elsewhere in the future."
Eskamani will be instead protest outside when Rubin interviews the governor.
https://www.theblaze.com/news/florida-democrats-to-stage-protest-outside-of-dave-rubin-event-with-ron-desantis Florida Democrats hold protest outside of Dave Rubin event with Ron DeSantis