Florida Deputy on Traffic Stop nearly hit by speeder
Dramatic video shows a woman driving at high speed at night and nearly hit an officer conducting a traffic stop on a Florida street.
Bodycam footage taken by Deputy Charles Williams shows a white Mercedes sedan passing inches by him, side-swiping his squad car when it was stopped in Lutz, 15 miles north of Tampa.
On the evening of May 4, Williams called his supervisors and reported, "I just had a white Mercedes hit my vehicle" before launching a high-speed hit-and-run chase down the Dale Mabry Highway on the car and its driver.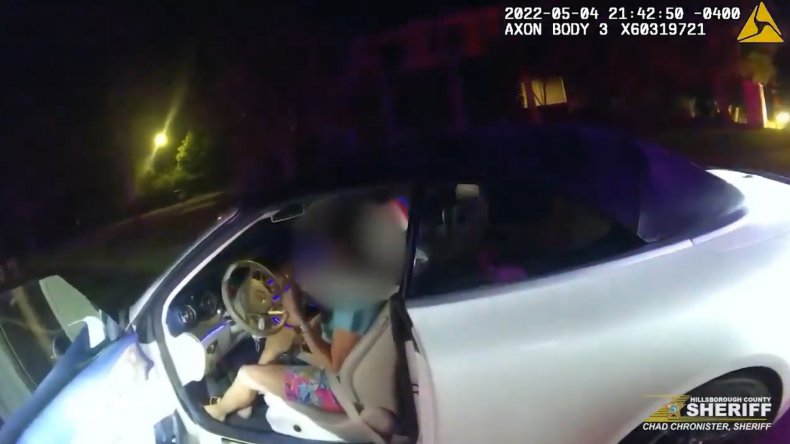 Fearing for his own safety and that of other motorists, Williams activated his siren and flashing lights. However, the driver continued to elude him.
When the car finally stopped, Williams confronted the driver and told the woman behind the wheel to "get out."
The video obscured the woman's face as she stepped out of the Mercedes, begging for forgiveness and saying, "I'm sorry."
As the driver pulled up in front of Williams, the deputy sheriff said, "You realize you hit my truck, right?"
The driver apologized again and said, "I'm so sorry."
"Yes, you hit it and moved on," Williams told her.
The woman claimed she "didn't know I hit it."
Expressing apparent disbelief that she hadn't registered the fleeting collision and the noise it made, Williams asked, "You didn't hear a loud bang?"
Williams explained to her how she could have killed him. "I was standing in the street and you almost hit me."
"I thought I hit a rock or something," the woman claimed, "I heard a pop." She then tried to touch Williams, and he told her not to touch him.
"You almost hit me and then my truck. And then you keep going. And I'm behind you with my lights on and you keep driving," Williams said.
Another officer enters the picture as Williams asks the woman why she would be driving in the lane after seeing the stopped police vehicle with its lights flashing.
"You haven't thought about moving? I'm literally blocking the lane," Williams said.
Florida has a state law that requires drivers to pull over when approaching a stopped emergency vehicle or tow truck and, if unable to pull over, slow to 20 miles per hour below the posted speed.
Video of the incident shared by the Hillsborough County Sheriff's Office ended with Sheriff Chad Chronister telling citizens, "Do not endanger our deputies or first responders," adding, "If you see flashing lights, change lanes."
"If you can't move safely, slow down or proceed carefully," he said.
This story was provided to Newsweek by Zenger News.
https://www.newsweek.com/florida-deputy-traffic-stop-nearly-struck-speeding-car-1709259 Florida Deputy on Traffic Stop nearly hit by speeder