Footage shows a Las Vegas teenager laughing maniacally in a stolen car as he fatally runs over a retired police chief. Prosecutors want to try the suspect as an adult.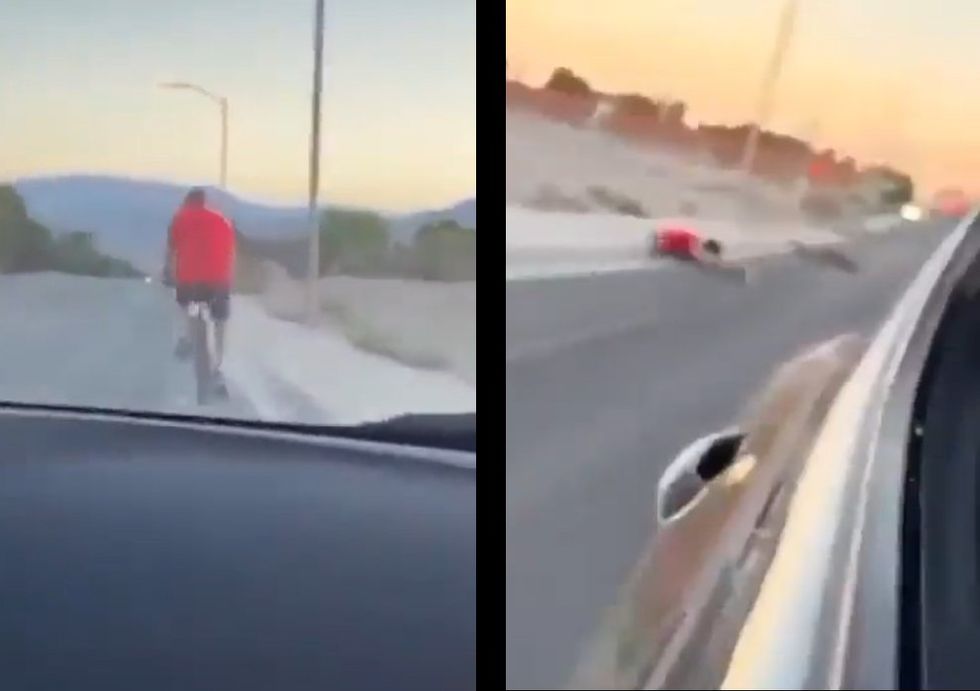 A 64-year-old retired police chief was riding his bicycle near his home in northwest Las Vegas when the driver of a stolen 2016 Hyundai Elantra struck and fatally struck him. Footage recorded by the perpetrators later showed that this bloody incident was no coincidence.
Two thugs in the stolen car filmed the incident as well as an earlier hit-and-run, documenting them cackling manically and expressing their intention to "smack his ass" before mowing down Andreas Probst, whose daughter suspected it was him everyone's father, "like being next to a ray of sunshine."
Prosecutors don't seem interested in treating the alleged murderer with kid gloves. Instead, they have stated their intention to try him as an adult. Although there have been no executions in Nevada since 2006, it is still a death penalty state.
The Clark County District Attorney's Office emphasized in a
opinion Monday that it "takes this matter very seriously. … The public prosecutor's office is applying for a certificate confirming that the young perpetrator is of legal age."
The 17-year-old is facing an open murder charge, which, according to the DAO, was filed in the juvenile justice system. More charges could follow.
If the teenager is tried and convicted as an adult of first-degree murder
could The penalty is 50 years in prison, life in Nevada State Prison, or the death penalty. If convicted of second-degree murder, the teen could face 25 years or life in prison.
"I am confident that justice will be served in this matter once the investigation is complete and the appropriate charges are filed," said Clark County District Attorney Steve Wolfson.
The Las Vegas Metropolitan Police Department said Monday that police are still searching for the second person who was in the stolen car and apparently captured the killing on video.
reported the Las Vegas Review-Journal.
TheBlaze previously reported that in the video taken by the second perpetrator, taken around 6 a.m. on North Tenaya Way near West Centennial Parkway, the teens can be seen intentionally aiming at a white sedan. The teenage driver accelerates, stops next to the sedan, then abruptly maneuvers into it, sending it careening into the median.
One of the two perpetrators shouts with relish: "B**ha** n*****! Stop talking shit, bitch!"
Just a few moments later, they see Probst minding his own business, riding his bike on the designated bike path.
"Ready?" says one of the teenagers.
The other responds enthusiastically: "Yes! Yes! Yes! Yes! Beat his ass."
With maniacal laughter and honking, the driver rams Probst and throws him through the air.
"Damn, this guy passed out," the passenger says, filming the grisly aftermath behind them.
The New York Post stated that after mowing down Probst, the perpetrators sped away on North Tenaya Way.
After the hit-and-run, Probst was taken to University Hospital, where he was pronounced dead.
Las Vegas-based criminologist Dr. Scott Bonn told the Review-Journal that the video reminded him of the so-called "knockout game," in which punks brutally attack random strangers, sometimes with fatal results.
Bonn suggested that it "makes absolute sense to try the 17-year-old driver as an adult because this is a particularly heinous act."
(WARNING: Graphic video)

Probst was the former police chief of Bell, California, and retired in 2009 after 35 years in law enforcement.
Taylor Probst, the victim's daughter, told the Review-Journal: "Being around him was like being next to a ray of sunshine. … He was always laughing, always smiling and offering you support, life advice and career advice."
Crystal Probst, the victim's widow,
written down on LinkedIn: "Andy was a great father, loving husband and brother. He dedicated more than 35 years to law enforcement and worked hard to improve his community."
Probst's widow
told Fox News Digital said her husband's murder was further evidence of the anarchy that reigns when criminals are not held accountable and police are demonized.
"It's not just about a victim. We as a nation are victims. We are victims of senseless crimes," said the widow. "We all need to show up and express our outrage in the courtroom."
Do you like Blaze News? Bypass the censorship, sign up for our newsletter and get stories like this delivered straight to your inbox. Login here!