Football 'tainted forever' by Qatar World Cup until FIFA 'stops abuses'
FIFA has been told that if the alleged human rights abuses in Qatar are not addressed before the World Cup, football will be "stained forever" by the tournament being played there.
There has been global dismay since the Gulf state won the World Cup, and the construction of the stadiums has resulted in thousands of migrants being subjected to human rights abuses and even deaths over the past decade, according to Amnesty International.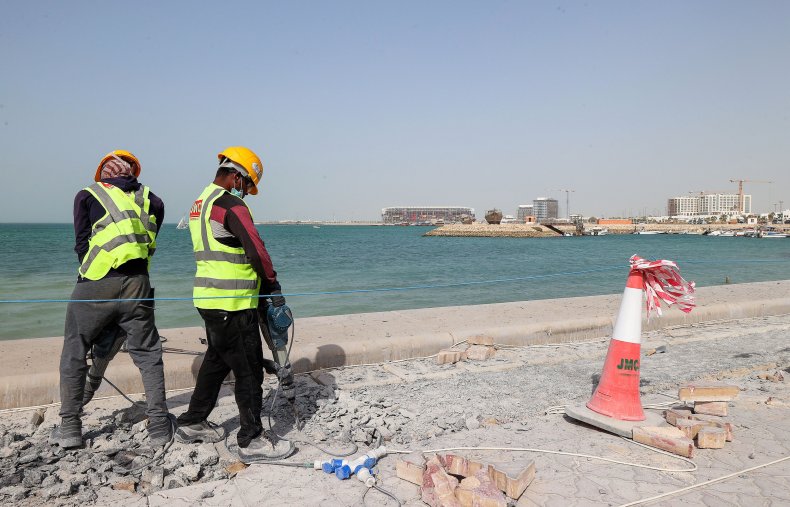 With the tournament just days away, FIFA have been urged to "learn from their past mistakes" and announce plans to rectify all complaints workers have received since Qatar hosted the 2010 World Cup.
Ella Knight, a researcher on migrant labor rights at Amnesty International, narrates news week there was still a mountain of concerns about the tournament starting on Sunday.
She said: "The systematic abuse and exploitation of migrant workers who have hosted this World Cup for Qatar over the past 12 years has undoubtedly tarnished the tournament in the eyes of many football fans.
"Although both Qatar and FIFA have undertaken some important reforms, both still have a long way to go to fully live up to their respective human rights obligations and responsibilities."
Knight added: "What matters is when [Gianni] Infantino [the FIFA president] wants to prevent this World Cup from being forever tainted by stolen wages, illegal recruitment fees, injuries and lost lives, he must urge FIFA to eliminate abuses related to the tournament.
"This will not repair the damage, but it would help workers and their families rebuild their futures. It would also show that FIFA is starting to learn from its past mistakes.
"This is not only right and responsible, but also has great support from the football-loving public around the world."
This is not the first time Amnesty International has denounced FIFA for its treatment of migrant workers. Steve Cockburn, the charity's head of economic and social justice, had previously said news week that there is more work to be done before Qatar can claim it has done the right thing by the workers.
Cockburn said: "While Qatar has made important progress on workers' rights over the past five years, it is clear that there is still work to be done. Thousands of workers are caught in a familiar cycle of exploitation, abuse and inadequate enforcement, thanks to loopholes in the law.
"With the World Cup approaching, protecting migrant workers from exploitation is only half done, while redressing those who have suffered abuse has only just begun.
"It is also imperative that Qatar commit to improving conditions over the long term. Progress must not stall when the World Cup roadshow leaves Doha."
Cockburn continued: "Despite the tremendous and growing support from fans, football associations and sponsors for migrant workers' compensation, Qatar and FIFA are still standing still. With just a month left, they're running out of time to do the right thing.
"Turning a blind eye to the abuses that thousands of migrant workers have endured over the years goes against their respective international obligations and responsibilities. They must come together to ensure those who have suffered so much to make this tournament possible are not left behind," Cockburn said.
This was announced by a Qatari government source with knowledge of information from inside the Gulf state news week: "A recent study by [UN agency] The International Labor Organization (ILO) recorded 50 work-related deaths nationwide in 2020, a fraction of the figures reported in the media.
There have been reports of 6,500 deaths, a figure Qatari authorities have disputed.
The source tells news week: "Considering the broader demographics and size of the population, the numbers are within the expected range and the mortality rate in Qatar has been steadily declining as a result of our region-leading health and safety programs."
Do you have a suggestion for a sports story for Newsweek to cover? Do you have a question about the World Cup? Let us know at entertainment@newsweek.com.
https://www.newsweek.com/soccer-forever-tainted-human-rights-abuse-fifa-qatar-world-cup-1760644 Football 'tainted forever' by Qatar World Cup until FIFA 'stops abuses'