"For someone who is 80 years old, being president is not a job," says Ron DeSantis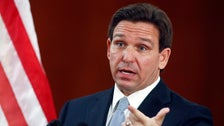 Florida Gov. Ron DeSantis (right) on Tuesday appeared to criticize President Joe Biden and former President Donald Trump because of their age, saying the role of commander in chief is "not a job for someone who's 80."
Biden, the Democratic incumbent, would be 86 at the end of a possible second term, while Trump would be 82 at that point.
In a new interview, DeSantis said age is a "totally legitimate concern" for voters as we approach the 2024 presidential election cycle.
"The presidency is not a job for someone who is 80 years old," DeSantis told "CBS Evening News."
DeSantis explained that the position requires someone who can give 100%.
"We need an energetic president," he said.
The Florida Republican added that he believes the Founding Fathers would have revisited the issue if they had known about the country's aging leadership and set an age limit for many of those high-level positions within government.
"I think Americans – if Biden is the Democratic nominee, I'm the Republican nominee – I think there will be a lot of Americans who want to see a generational passing of the torch," he said.
But DeSantis, 44, has so far failed to gain momentum nationally and in the Republican primaries, where national polls average him nearly 40 percentage points behind Trump, the Republican front-runner compiled by FiveThirtyEight.
But even though Biden has tried to embrace his age and even joke about it in appearances around the country, it remains an area of ​​concern for Americans.
In a Wall Street Journal poll In a poll last month, 73% of respondents said Biden was too old to run for re-election. Only 47% of respondents said Trump, who is just three years younger than Biden, was too old to run for the White House.
But the Democrats continue to stand behind Biden.
California Gov. Gavin Newsom (D), who was believed to have White House ambitions, dismissed those suggestions.
"The train has left the station," Newsom said told the New York Times. "We're all there. Stop talking. He's not going anywhere. It's time for all of us to get on the train and make an effort."
Former House Speaker Nancy Pelosi (D-Calif.), 83, who has announced she is seeking re-election to her House seat next year, has also defended Biden despite concerns about his age and predicted he will have another will complete his term of office.
"In 15 months, it will be with great pride that you see Joe Biden re-elected as president of the United States," she said.