Former advisor to Mike Pence describes seeing Trump's mugshot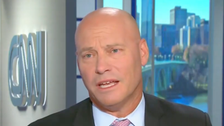 Marc Short, who served as former Vice President Mike Pence's chief of staff, spoke at length about what it was like to see former President Donald Trump's mug shot after his arrest in the Fulton County jail last week.
"I think it's sad. I find it tragic," Short said Friday after CNN's Jake Tapper asked for his reaction to the picture.
Short, who was also director of legislative affairs at Trump's White House, noted that the former president had been great to him and his family before offering his opinion on the Jan. 6, 2021 attack.
"I think the events of January 6th were tragic and certainly avoidable. And I think the President has been given a lot of bad advice — in many cases advice he's taken himself — that I think has misled him," Short said.
"And I think that asking the Vice President to sort of override the Constitution is ultimately a gross breach of your most important oath to the American people, which is to protect and defend the Constitution."
Trump on Thursday pleaded not guilty to allegations related to his – and 18 other co-defendants – efforts to overturn the results of Georgia's 2020 presidential election.
A total of 91 criminal charges have been filed against the former President in four cases.
Short has previously been critical of those in Trump's circle, once comparing the former president's "bad" advisers to "basically snake-like oil salesmen" during an appearance on Meet the Press early last year.
Tapper later asked Short how other members of the Trump White House who are not "charged with crimes" react to the mugshot.
"I think for a lot of people it's probably a bit surreal in some cases, you have to step back from that," Short said.
"But I think there are obviously many of us who felt the events of that day [Jan. 6] were tragic and that what the President was asking the Vice President to do was contrary to his oath. However, I think there are many others, Jake, who feel they still want to defend and push his candidacy in 2024. I think they want that to go away."