Fox News reporter calls misleading video edit of his Texas shooting report: 'You absolute hacker'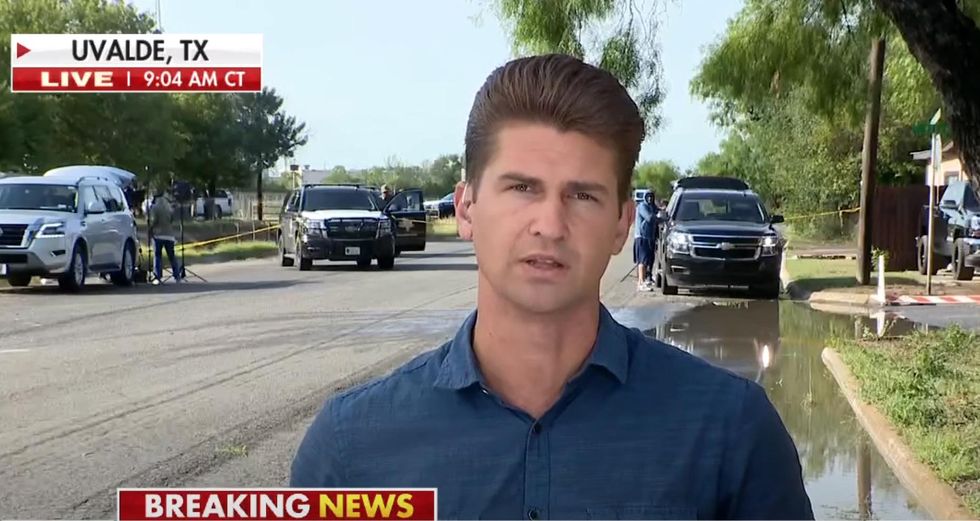 A Fox News reporter hit out at a misleading edit of his report, which was posted to Twitter to appear to be spreading an unverified rumor about the horrific mass shooting at a Texas elementary school.
Bill Melugin, who works out of the Los Angeles office, was outraged by the misleading edit that a former Deadspin and Daily Beast reporter, Timothy Burke, posted on social media.
The video he posted lasted about 6 seconds and was viewed over 322,000 times.
The full quote from the report complete undermined Burke's accusation.
"There were rumors that this was some kind of border police chase," Melugin said. "I have heard nothing of the sort. I have not confirmed any of this information. I have no reason to believe these rumors are credible at this time."
Melugin also attacked Burke over the video.
"The reason you cut it down to six seconds is because you cut out the part where I completely shot down those rumors you absolute hack," Melugin tweeted.
While Burke's tweet containing the misleading video only received 456 likes and 90 retweets, Melugin's reply received more than 11,1,000 likes and 2,166 retweets.
Some on social media suspected the gunman, who was later identified as 18-year-old Salvador Ramos, may have been an illegal alien due to the presence of Border Patrol agents at the scene. A statement by Assistant Secretary of State for Public Affairs at Homeland Security Marsha Espinosa clarified that border patrol agents were responding to a call for help from Texas law enforcement officers at the shooting.
"These border guards and other officials are risking their own lives and getting between the gunman and the children at the scene to divert the gunman's attention from potential victims and save lives," Espinosa said explained.
One report said a border guard rushed into the mass shooting to shoot and kill the attacker.
Here is another report from Melugin in Texas:

Victims of Uvalde, Texas shootings killed in a single classroom

www.youtube.com

https://www.theblaze.com/news/bill-melugin-video-texas-shooting Fox News reporter calls misleading video edit of his Texas shooting report: 'You absolute hacker'