Frontier disconnected the customer service phone line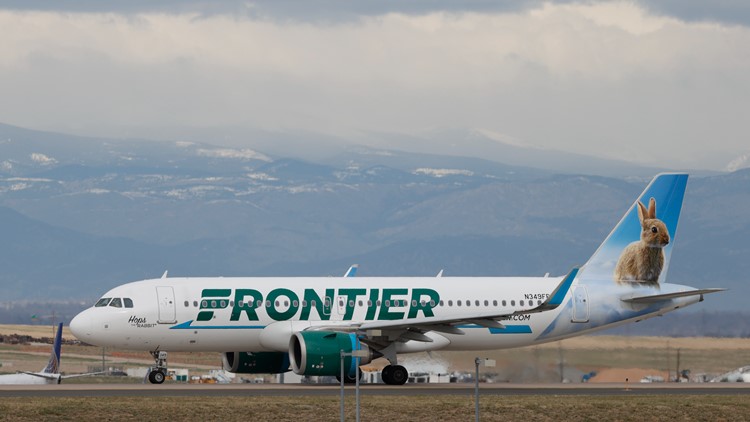 The company's customer support phone number now just directs users to a pre-recorded message asking them to get in touch with the company online.
WASHINGTON — Low-cost airline Frontier is cutting customer service lines for flyers, meaning you can no longer call to speak to a human.
Instead, customers can only get in touch with Frontier's agents through the company's website, WhatsApp, or social media.
"Our customer care recently transitioned to fully digital communications, which allows us to ensure our customers get the information they need as quickly and efficiently as possible," Frontier spokeswoman Jennifer de la Cruz said in an emailed statement.
This makes Frontier the largest airline in the US not to have live passenger phone support.
Although the customer service phone number was removed from the airline's website, it still shows up in a Google search.
When calling the number, a pre-recorded message is displayed:
"At Frontier, we offer the lowest fares in the industry by running our airlines as efficiently as possible. We want our customers to be able to operate efficiently too, which is why we make it easy for you to find what you need on FlyFrontier.com or via our mobile app. We also have a chat service that is available 24/7."
Although phone chats appear to be the order of the day at the airline, that doesn't mean human interaction has also gone the way of the gramophone.
"We found that most customers prefer to communicate through digital channels," said de la Cruz. "Customers can visit our website and first interact with a chatbot that provides answers to frequently asked questions.
When you contact Frontier online, the chatbot opens a conversation trying to resolve a customer's basic issues. If an issue is too complex to resolve, the customer is routed to a live representative who can take care of more detailed issues.
The presentation's solutions included the chatbot and the implementation of a "three-to-one" live chat, where a representative would resolve issues for three customers simultaneously.
"Think of the most obscure question a customer could ask that would take a call center agent many, many minutes to research and answer," said Jack Filene, Frontier's senior vice president of customers, according to CNBC during the presentation. "The chatbot can answer that very quickly."
https://www.kvue.com/article/news/nation-world/frontier-customer-service-phone/507-d502e6f8-1c54-4c43-9ca9-ae1720c61a0a Frontier disconnected the customer service phone line