Full list of Republicans who voted against their own funding bill
Republican House Speaker Kevin McCarthy suffered a stinging defeat on Friday after members of his own caucus voted against his latest attempt to pass a short-term spending bill aimed at keeping the government open beyond September.
A group of 21 GOP representatives defied their leader and refused to support a bill that aimed to fund the government through Oct. 31, even though it would have included spending cuts and measures for tougher border security.
The failure to pass the bill brings the U.S. government closer to a shutdown – with just over 24 hours left until federal agencies run out of money to stay open for the coming fiscal year – a reality that analysts say is simultaneously hurting the economy could be a period of uncertainty for the country.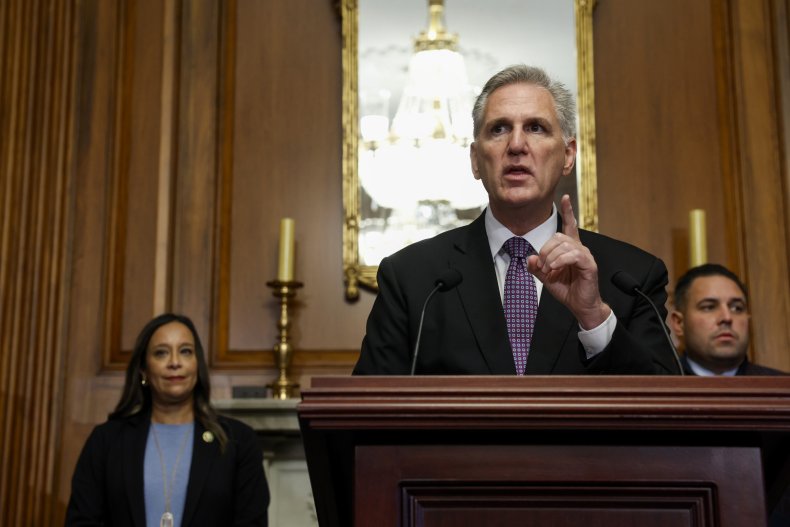 In Congress on Friday, 232 House members voted against the bill versus 198 in the yes column, while three members did not vote.
Here is a list of the 21 Republican House members who voted against the bill, according to a count the secretary of the house.
Andy Biggs (Arizona)
Dan Bishop (North Carolina)
Lauren Boebert (Colorado)
Ken Buck (Colorado)
Tim Burchett (Tennessee)
Eric Burlison (Missouri)
Michael Cloud (Texas)
Elijah Crane (Arizona)
Matt Gaetz (Florida)
Paul A. Gosar (Arizona)
Marjorie Taylor Greene (Georgia)
Wesley Hunt (Texas)
Nancy Mace (South Carolina)
Mary E. Miller (Illinois)
Cory Mills (Florida)
Alexander X. Mooney (West Virginia)
Barry Moore (Alabama)
Troy E. Nehls (Texas)
Andrew Ogles (Tennessee)
Matthew M. Rosendale, Sr. (Montana)
Keith Self (Texas)
McCarthy has a slim nine-vote majority in the House of Representatives and little room for maneuver. With Democrats united, any Republican loss makes it difficult for his party to advance legislation.
Even if the embattled House speaker had managed to unite his fractured conference and pass the bill, he would have faced fatal resistance in the Senate, where his deep cuts and focus on border security are unlikely to have support in the Democratic-controlled upper chamber will find.
The Senate is pushing through its own bipartisan stopgap bill to fund the government through Nov. 17, including aid to Ukraine. The far-right group of Republicans in the House of Representatives has expressed strong opposition to this agreement.
If it passes in the Senate, McCarthy would have to decide whether to seek Democratic support to pass the bill and prevent a shutdown.
A halt to government operations will cause significant disruption not only to the economy, but also to access to federal agency services, including public parks and museums. As of late Friday afternoon, it was unclear what direction McCarthy and House Republicans would take next.
Newsweek emailed McCarthy's office for comment on Friday.