Gavin Newsom laughing at Ron DeSantis in his own backyard
California Gov. Gavin Newsom took his feud with his Florida counterpart, Ron DeSantis, to new heights by traveling across the country to challenge the Republican governor in his own backyard and taking a moment to get over to laugh at him while he was there.
On Wednesday, Newsom met with students and faculty from the New College of Florida for a show of solidarity at the liberal arts institution after the college became an epicenter of the DeSantis administration's efforts to combat the "wake" policy in higher education .
In addition to the crackdown on "woke" education, which has been challenged in court, the Republican governor and his allies recently initiated a top-down restructuring of the school to make it a more conservative institution to cater to the largely progressive and LGBTQ+-friendly student body described as a "hostile takeover" that violates their academic freedom.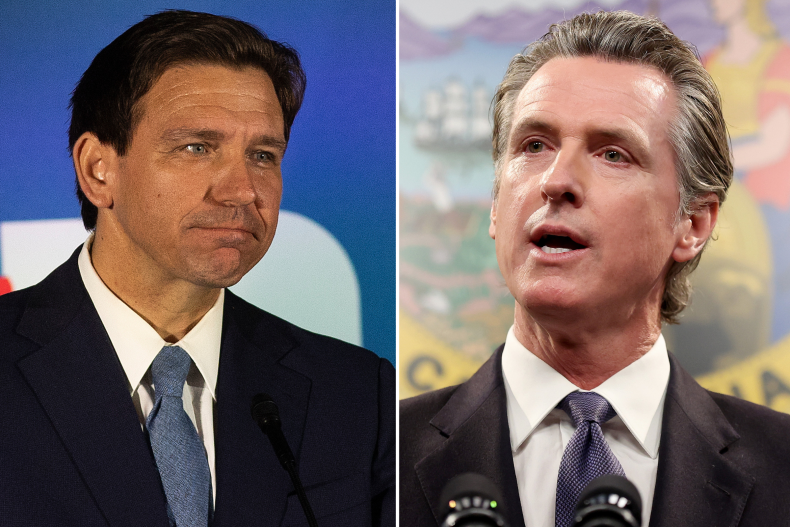 In January, DeSantis named seven new members to the New College's 13-member board of trustees, made up of conservative insiders and think tankers, and used his new majority to enact significant changes to the school. At its first meeting, the board voted to fire New College President Patricia Okker and replace her with DeSantis' first commissioner of education, Richard Corcoran, on double salary.
Subsequent board meetings included scrapping the school's diversity and equity programs — which DeSantis has regularly criticized — with new trustees claiming these initiatives actually served to divide students.
Newsom, a Democrat, is now attempting to use these changes as a wedge against DeSantis in a future potential campaign.
On Wednesday, the California governor and potential future DeSantis challenger for president traveled to the school to meet with students and faculty to address DeSantis' efforts to crack down on the school, where he compared its plight to that of civil rights activist Rosa Parks , for whom her decision to refuse to transfer to the back of a segregated bus was just the beginning of a lengthy boycott.
"People forget what happens after that moment, that 'no' after that phrase," Newsom said in a video shared by Gannett reporter Zac Anderson. "History is made there. History is being changed there."
Newsom also took the opportunity to take a shot at the DeSantis board's decision to dismantle the school's diversity programs after a person present noted that the office consisted of only four people.
"I don't want to laugh, but my goodness," Newsom was quoted as saying.
news week emailed the Newsom office for comment.
A spokesman in the DeSantis office, reached for comment Wednesday, referred to a news week Reporter to a GIF tweeted out by DeSantis spokesman Bryan Griffin late last month for use in response to "all future fake media and political hoaxes" depicting a speech in which his chief chastised press officials for focusing on political stunts.
"If you want to waste your time doing a stunt, that's fine," DeSantis says in the GIF. "But I don't waste my time doing your stunts."
https://www.newsweek.com/gavin-newsom-laughs-ron-desantis-florida-1792800 Gavin Newsom laughing at Ron DeSantis in his own backyard