Gavin Newsom raves about "vaccination gratitude" and is mercilessly mocked on Twitter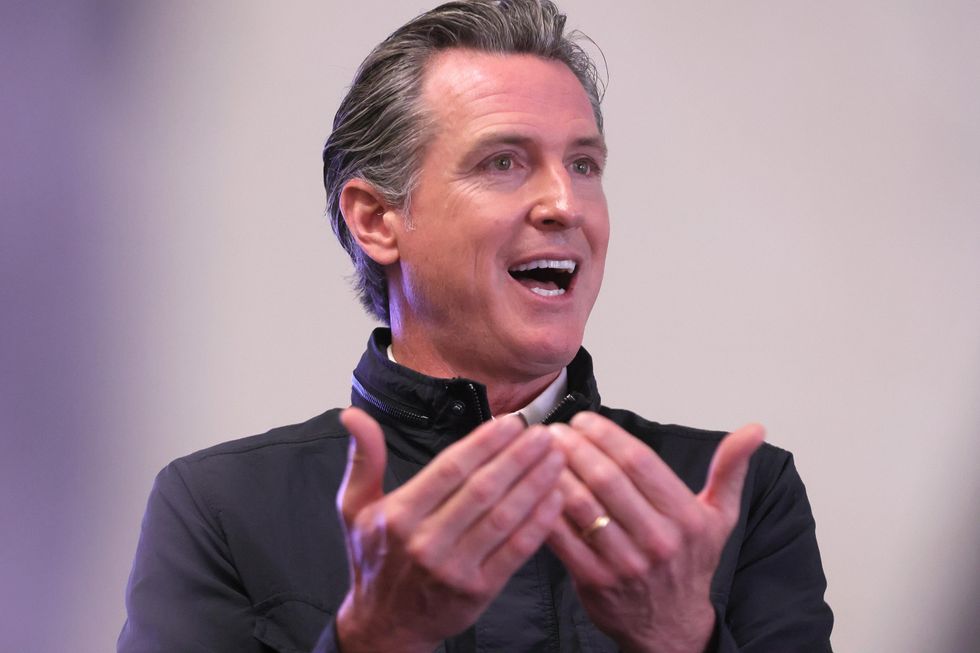 California Gov. Gavin Newsom tested positive for COVID-19 over the weekend and made sure to update Twitter on his current condition.
"This morning I tested positive for COVID-19 and am currently experiencing mild symptoms. I am thankful to be vaccinated and for treatments like Paxlovid. I am adhering to health guidelines and will be isolated while working remotely. I wish everyone a safe and healthy Commemoration Day weekend," Newsom tweeted.
The nation will rest easier knowing Newsom has normal symptoms and is grateful for vaccines. Steve Deace from "Steve Deade show' took the opportunity to poke fun at Newsom's hostage-esque message.
"I'm pregnant but grateful for my birth control. Otherwise I would have triplets," Deace sneered.
Maybe there's a memo that comes out when a vaccinated person (boosted or not) gets the virus they were vaccinated against to tell social media that they're grateful for the vaccine because otherwise they're somehow going to get worse had been infected with the virus. Because Gavin Newsom is just another participant in the long line of "I'm grateful for this vaccine because otherwise I would have been made even sicker by this virus that I have now".
Deace's analogy is a helpful reminder that when preventive measures do little to prevent what should be prevented, gratitude is not the best way to highlight success. But it's a fun way to illustrate failure.
Steve Deace had a busy episode after Memorial weekend. On Tuesday's episode of "Steve Deade show' Steve kicked off the short work week with a recap of what happened over the three day weekend.
video summary
In Uvalde, Texas, details surrounding the police response to last week's mass shooting at Rob Elementary continue to shock the public. As Aaron explained, it was confirmed that the shooter arrived at the school shortly after his pickup truck crashed and entered through an unlocked back door. Aaron added that police did not gather at the school until "at least 20 minutes later."
Children were trapped inside until a border guard got tired of waiting for the police to attack the gunman and then took his fate into his own hands. The shooter is said to have been a loner who threatened to rape, kidnap and kill teenage girls online. These threats were apparently ignored. Images have also emerged of the shooter allegedly walking around town with "a bag of dead cats." This behavior was also apparently ignored.
Separately, the NRA held an event in Texas where Donald Trump spoke about the Uvalde tragedy:
"The monster that committed this crime is pure evil, cruelty and hatred. And while the dead are with God in heaven now, he [the shooter] will forever be doomed to burn in the fires of hell. There will always be sick and demonic souls who want to harm the innocent and see evil triumph over good. And I have, but the existence of evil in our world is no reason to disarm law-abiding citizens who know how to use their guns and protect many people. The existence of evil is one of the very best reasons to arm law-abiding citizens."
In other news, Canada's "Boy King" Justin Trudeau announced that Canada plans to introduce legislation to implement a national freeze on handgun ownership. The legislation will make it impossible to buy, sell, transfer or import handguns anywhere in Canada by limiting the market.
Can't watch? Download the podcast here.
Get more from Steve Deace
To enjoy more of Steve's views on national politics, Christian worldview and principled conservatism with a biting twist, Subscribe to BlazeTV – the largest cross-platform network of voices who love America, defend the Constitution and live the American dream.
https://www.theblaze.com/shows/steve-deace-show/gavin-newsom-gushes-with-vaccine-gratefulness-and-gets-mercilessly-mocked Gavin Newsom raves about "vaccination gratitude" and is mercilessly mocked on Twitter