Gay pride parade co-founder claims trans activists attacked him during parade in Vermont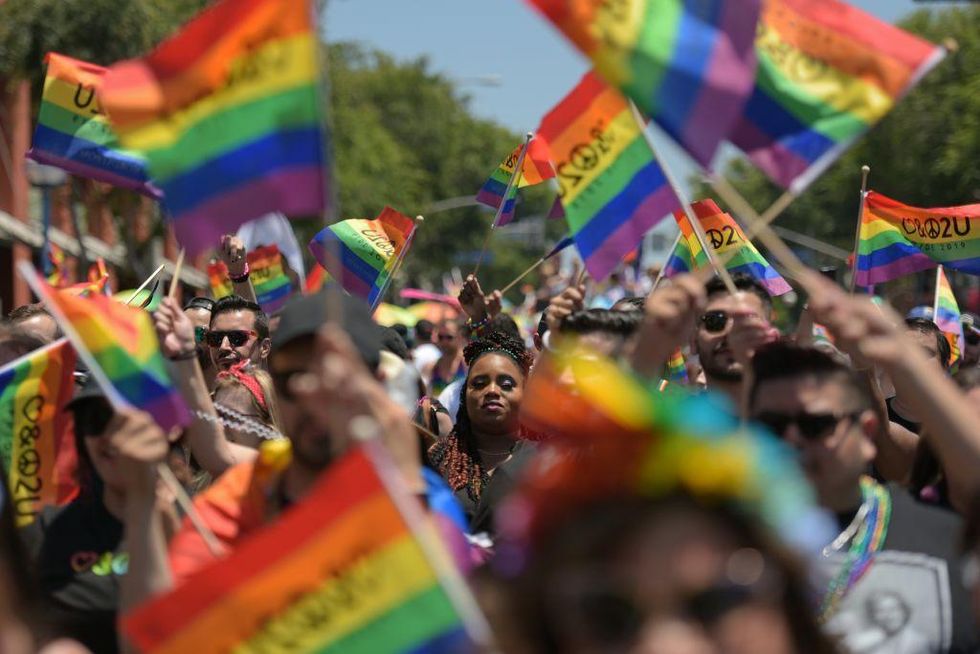 Fred Sargeant, co-founder of the first gay pride march in New York City in 1970, claimed transgender activists attacked him during a parade in Vermont on Sunday.
The 74-year-old is a prominent gay rights leader who took part in the Stonewall riots of 1969. Sargeant tells National Review He attended the Pride event in Vermont to protest the transgender movement by holding up a sign and handing out fliers.
Sargeant said he believes the "gender identity movement" stole the "gay liberation movement." Once one of the founders of the Pride event, it now sees itself as "an exclusionary parade and a place for groups dedicated to discrimination within the same-sex community".
"I worry that the movement I knew, the gay liberation movement, has morphed into a gender identity movement that's quite misogynistic and homophobic – values ​​I don't share," Sargeant told National Review.
Sargeant said he no longer recognizes the movement he helped found decades ago.
During the parade, Sargeant held a sign with a red line through the phrases "Black Face" and "Woman Face". The back of the sign read "Gay, Not Queer."
"For some reason, drag is celebrated in society today, although no one would dare take it seriously in the future, and I think that's wrong," argued Sargeant. "I find it disrespectful to women."
Sargeant reported that as he faced the oncoming crowd, a person approached him and took his sign.
"As best I could on a stick, but with a little adrenaline going, I hobbled down the street after him and got my shield back," Sargeant told the news outlet.
After recovering his shield, Sargeant said he returned to where he originally stood and continued to protest silently, but it wasn't long before other activists confronted him.
A Video posted to Sargeant's Facebook page showed a woman trying to snatch the sign from his hands. Another participant in the parade accused her of assaulting Sargeant, and she responded by accusing him of starting the altercation by elbowing her friend.
Sargeant claimed he was pushed, punched and pushed to the ground by radical transgender activists during the Pride march in Vermont. He also stated that the activists poured coffee over his head and stole his belongings.
He wrote on Facebook: "So I went to Pride to protest their misogyny, homophobia, exclusionary policies and division. I was met with screams, multiple assaults, age-related comments, shoves, slaps, coffee, and repeated attempts to steal my signs. When the mob tried unsuccessfully to disrupt my protest and drive me away, they pushed me to the ground at the end of the parade, further injuring me."
He accused the trans activists of stealing around $600 worth of belongings from him, including a folding chair, an umbrella, a box of brochures and a new shirt.
"They put two and two together and took some trophies," Sargeant told the National Review. He reported being hospitalized for a CT scan and eventually sent home to recover from the attack.
According to the National Review, police were called to the incident twice, but it took almost three hours to follow up with Sargeant regarding the attack.
https://www.theblaze.com/news/co-founder-of-gay-pride-parade-claims-trans-activists-attacked-him-during-vermont-parade Gay pride parade co-founder claims trans activists attacked him during parade in Vermont