George, Charlotte at the Queen's funeral Versus William, Harry at Diana
Prince George and Princess Charlotte will join Prince William and Kate Middleton for Queen Elizabeth II's funeral service – in a move that bears both similarities and differences to William and Harry walking behind Princess Diana's coffin at her funeral.
The young royals will move into Westminster Abbey behind their parents, the new Prince and Princess of Wales, and ahead of Prince Harry and Meghan Markle.
Confirmation of her attendance came at 11.30pm UK time, when Buckingham Palace issued the Rules of Procedure less than 12 hours before the start of Elizabeth's final journey.
King Charles III and Camilla, Queen Consort, will lead the procession entering the Abbey, followed by the Queen's other children.
William and Kate will then join the grandchildren with George, nine, and Charlotte, seven.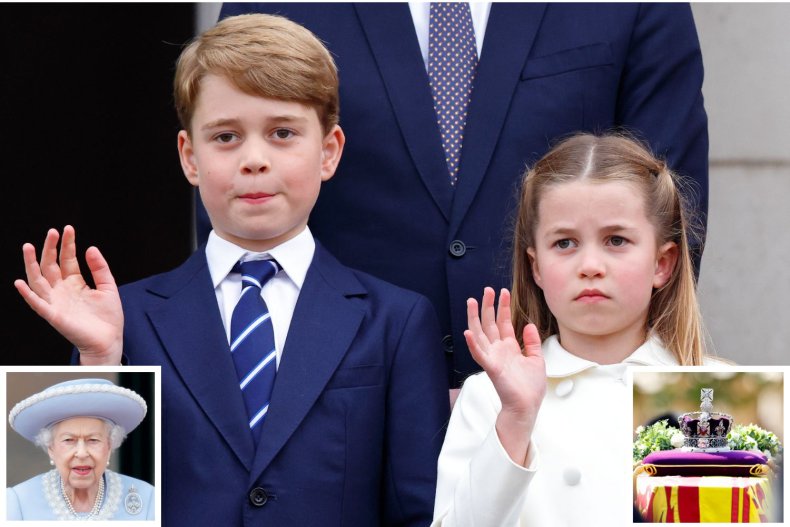 Her presence at a state funeral at such a young age is likely to bring back memories of Prince William and Prince Harry, aged 15 and 12 respectively, walking behind Princess Diana's coffin at her funeral almost exactly 25 years ago in September 1997.
There are both differences and similarities, however, as unlike George and Charlotte, the royal brothers had to walk about three miles from Kensington Palace to the Abbey, past hundreds of thousands of public mourners.
While George and Charlotte were close to their great-grandmother, the loss also cannot compare to the trauma experienced when William and Harry lost their mother.
In an exclusive news week In a 2017 interview, Harry said: "My mother had just died and I had to walk a long way behind her coffin, surrounded by thousands of people watching me while millions more did on TV.
"I don't think a child should be asked to do that, under any circumstances. I don't think it would happen today."
The queue to see the Queen reclining in Westminster Hall ended at 6:30am London time and at 10:44am (5:44am ET) her coffin would be carried in a gun-carriage procession to Westminster Abbey.
President Joe Biden and First Lady Jill Biden will be among the world leaders gathering for the touching service, which begins at 11 a.m. and is scheduled to end just before noon.
There will then be a second procession, not attended by George and Charlotte, which will lead the Queen to Hyde Park where tiny cannons will fire in her honour.
At 1pm she is then taken by hearse to St George's Chapel, Windsor Castle, where a funeral service will be held at 4pm
It is the same church where Elizabeth is known to have sat alone during Prince Philip's funeral in April 2021, in accordance with COVID-19 guidelines in place at the time.
However, there will be no such restrictions for Britain's longest-reigning monarch as British police prepare for the biggest operation in the country's history.
On the eve of the funeral, Charles released a message to the public: "As we all prepare to say our final goodbyes, I just wanted to take this opportunity to say thank you to all the countless people who have offered such support and comfort were my family and I at this time of grief."
That evening, world leaders gathered for a reception at Buckingham Palace after some, including the Bidens, stopped at Westminster Hall to see the Queen lying in state.
The President and First Lady seemed visibly moved as they looked down from a balcony at the coffin, draped in the royal standard and bearing the Imperial crown, orb and sceptre.
Quoted by Reuters, Biden later said: "To all the people of England, all the people of the United Kingdom, our hearts go out to you. You were lucky enough to have her for 70 years, we all were. The world is better for her."
https://www.newsweek.com/prince-george-princess-charlotte-join-queen-funeral-procession-william-kate-harry-meghan-1744037 George, Charlotte at the Queen's funeral Versus William, Harry at Diana