Georgia AG is urging Atlanta media to stop labeling rioters as 'protesters': 'Peaceful protesters use words… Rioters set police cars on fire'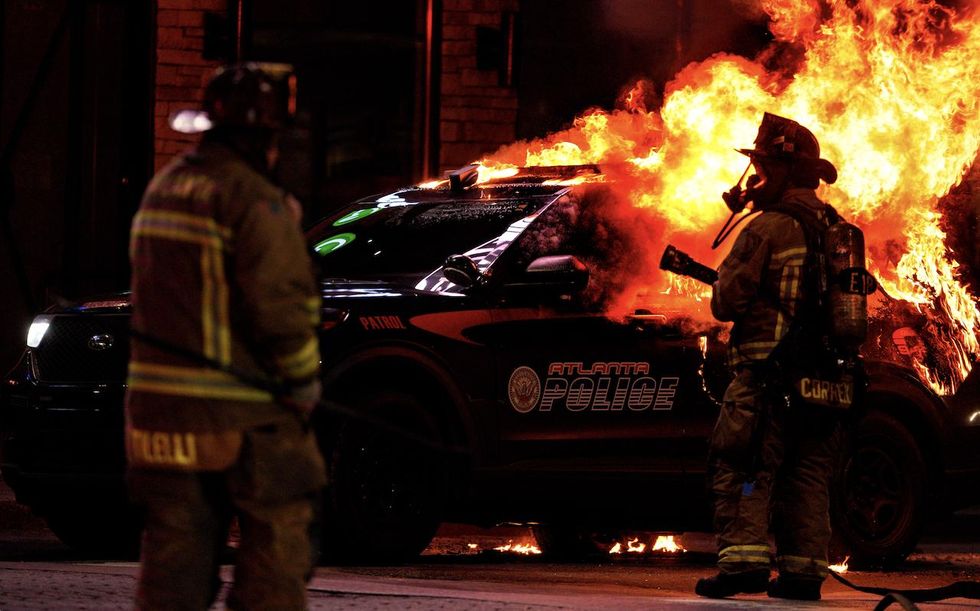 Georgia Attorney General Chris Carr told media representatives in Atlanta to stop labeling "Cop City" rioters as "protesters" amid lawlessness in the city this weekend.
"To the Atlanta Media: Peaceful protesters use words. Rioters smash windows, set police cars on fire and shoot police officers dead." Carr tweeted Saturday. "Stop calling these people protesters."
Carr issued hashtags associated with local stations WAGA-TV, WSB-TV, WXIA-TV, GPB News, and the Atlanta Journal-Constitution newspaper.
What is the background?
Multiple videos showed unrest Saturday amid a protest over a deadly police shooting at the future Atlanta Public Safety Training Center, nicknamed "Cop City." Activist Manuel Esteban Paez Teran – who called himself "Tortuguita" – allegedly shot and killed a Georgia State Patrol soldier, after which law enforcement returned fire, killing 26-year-old Teran.
The protest for Teran turned violent within an hour when rioters set off firecrackers and threw large rocks at the Atlanta Police Foundation building in downtown Atlanta. Two police squad cars were set on fire, bricks were thrown at other APD vehicles and windows of local shops were smashed.
What did the media do?
The media, while acknowledging the unrest, stressed that the protest began "peacefully".
NPRwrote, for example, that "the first hour of the demonstration was peaceful…"
A WAGA TV reporter – narrating during live video showing vehicle fire raging in the background – said "it was a largely peaceful protest":
Freelance journalist David Peisner asked CNN – as videos of the chaos in Atlanta flashed on screen – whether the destruction of property could be considered violence.
"I think the lines are really blurring with the use of the word 'violence.' Is property destruction violence? For some people it certainly is. But you know, this notion that smashing windows or other acts of property destruction is the same as actual violence against people is a dangerous and slippery concept," Peisner said.
He continued, "Look, I don't think this is a smart move. I don't think it's a productive move from the protesters' perspective, but as the boss himself said, this is a small group… They keep with those words 'violent, violent, violent, violent'… the only acts of violence against people who I saw were actually cops attacking protesters."
Republican Governor of Georgia Brian Kemp tweeted Saturday that "Violence and unlawful destruction of property are not acts of protest. They are crimes that will not be tolerated in Georgia and will be prosecuted comprehensively."
Like Blaze News? Bypass censorship, sign up for our newsletters and get stories like this straight to your inbox. Sign up here!
https://www.theblaze.com/news/georgia-ag-tells-atlanta-media-to-stop-referring-to-rioters-as-protesters-peaceful-protesters-use-words-rioters-set-police-cars-on-fire Georgia AG is urging Atlanta media to stop labeling rioters as 'protesters': 'Peaceful protesters use words… Rioters set police cars on fire'