Geraldo Rivera says his Fox News appearances this week have been "cancelled".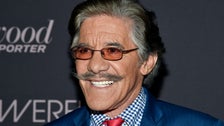 Geraldo Rivera announced Thursday that his appearances on Fox News' The Five this week have been "cancelled."
"I'm sure there's a good reason," the veteran Conservative commentator tweeted of his absence from the hosts' lineup on Thursday and Friday.
"Don't worry, I'll be back the week after next," he added.
According to Mediaite, Rivera has not appeared on the show since April 21.
Rivera was one of the few Fox personalities to call out Tucker Carlson last week after the prime-time host was fired from the network.
"I don't wish ill on anyone, but there's no doubt — as I said at the time — Tucker Carlson's perverted January 6th conspiracy theory was 'bullshit,'" Rivera tweeted last Wednesday. "After President Trump lost the election, he launched an insurgency aimed at undermining our constitutional process."
Greg Gutfeld, one of Rivera's co-hosts on "The Five," who defended Carlson after his departure, responded in a seemingly sarcastic tone, saying, "You're class, Geraldo. A true man of the people."
On Thursday, after announcing his impending no-show, Rivera Gutfeld replied, saying, "Thank you @GregGutfeld for your kind comments."