Gina Carano cheers for the South Park Panderverse special where she beats up Disney's Kathleen Kennedy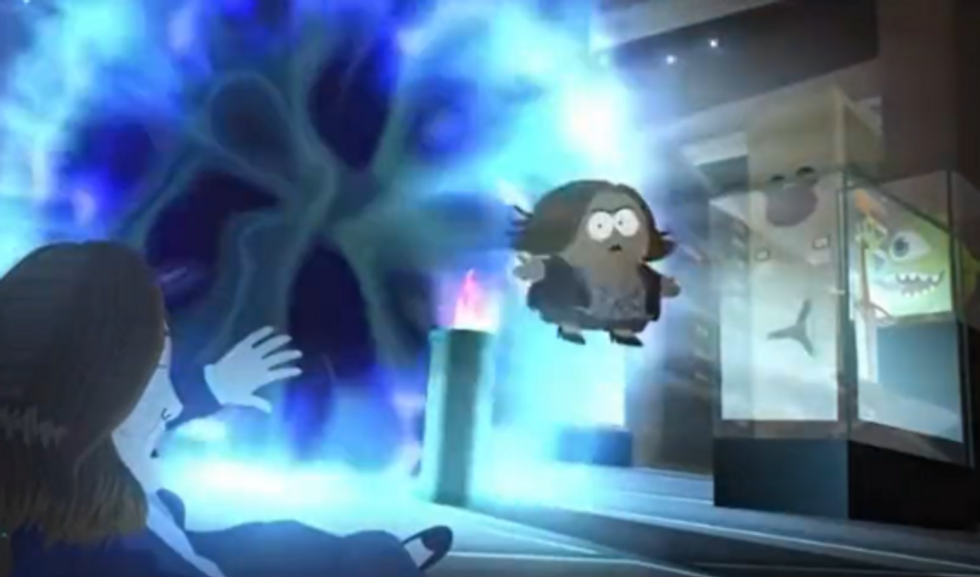 Last week, "South Park" released its latest special, which immediately received widespread praise for poking fun at the recent Hollywood trend of recasting roles previously filled by white characters and replacing them with minorities and women . The new animated special also took aim at Disney's recent weakness in developing entertainment content, blasting Lucasfilm boss Kathleen Kennedy – which was applauded by actress Gina Carano.
The latest "South Park" special is titled "South Park: Joining The Panderverse." The main plot is that Disney uses a "Pander Stone" to make movies appealing to everyone.
In the animated special, Kennedy's character describes the Pander Stone as: "An ancient piece of artificial intelligence that could make the same movies over and over again and appeal to absolutely anyone."
However, Kennedy's character feels the pressure of making pandering film franchises and misuses the Pander Stone – which in turn opens up another dimension known as the "Panderverse."
The interdimensional portal invites women of color to replace all of the popular 4th grade "South Park" characters.
As Blaze News previously reported, "The 'South Park' special will lampoon Hollywood's attempt to score points by recasting roles with female and minority actors."
In online reactions, many cultural influencers were impressed by the no-holds-barred "South Park" special.
Eric D. July – Founder of Ripperverse Comics – commented on the new "South Park" special: "This new episode highlights all the problems in modern entertainment. The funny thing is that a lot of it isn't really presented as a 'joke.'" For the most part, they simply convey exactly what happened through the South Park characters. That's how much of a "joke" it actually is. My only criticism is that they are a little late to the party. This episode "should have been made three to four years ago. During this time we were all gaslighted and told this did not happen. Now it's so bad it can't be denied."
The Critical drinker explained: "South Park takes no prisoners here.
commentator Brandon Morse announced: ""South Park remains the most important show on television."
Podcaster Matt Kadish noted: "So, South Park says what the "toxic" fans have been saying since 2018. Better late than never, I suppose."
Donald Trump Jr. chimed in: "Hahahahaha. As always, South Park doesn't miss a beat."
NFL player David Bakhtiari added,"Man, I love South Park. No one is safe and that's the beauty of it."
commentator Luke Rudkowski warned: "Protect South Park at all costs."
Actor Matthew Marsden announced: "I love South Park."
The new special also caught the attention of Gina Carano – especially since the episode ridiculed Lucasfilm boss Kathleen Kennedy.
To backtrack, Carano starred in the hugely successful series The Mandalorian before being fired from the Disney show in February 2021.
Carano was terminated by Disney for the alleged crime of sharing a social media post containing a comparison Criticism of conservatives to the oppression that Jews were subjected to in Nazi Germany. She had portrayed Cara Dune in the popular Star Wars show.
Many defended the MMA fighter and actress' opinion – including "The Mandolorian" star Bill Burr. Despite the pleas, Disney blasted Carano for her opinions on social media.
The "South Park" special takes aim at Kennedy, and at one point Cartman tells her about the interdimensional dilemma she's caused: "That's actually the best explanation I've ever heard as to why Disney movies all suck now." Kennedy's character admits that Disney was "lazy" about creating explicit content.
Carano weighed in on how creators Matt Stone and Trey Parker brilliantly satirized Disney's attempt at wokeness, which only hurt the end result. According to a report released in June, Disney's box office losses for its last eight studio releases reached nearly $900 million.
Carano criticized Kennedy on her X social media account, claiming her former boss was retaliating against anyone who opposed her.
Carano claimed that Kennedy would launch a revenge mission to "When her publicists ensure that Variety and Hollywood Reporter publish hit articles about the "South Park" creators and their families smearing their names with every useful idiot she has under her thumb who would sell his soul, um to work for Lucasfilm, she will activate them Online mob repeats that the "South Park" creators are racist, bigoted and transphobic, and demands the "South Park" creators publicly apologize using only words uses that she approves of, and ultimately demands that they undergo a re-education course by 45 people in the LGBTQ community call on Zoom to sit and listen to how their emotions are affected during a small mishap in a "South Park" -Consequence were injured."
The "South Park" special will air on Paramount+.
Multiple Universes Are Stupid – SOUTH PARKwww.youtube.com