GOP Rep. Faced With Downplaying Trump Documents Investigation and Ripping Up Biden
Rep. Mike Turner, a Republican from Ohio, was confronted Saturday for "downplaying" the way former President Donald Trump had handled classified documents, but then the problem with President Joe Biden's classified documents criticized.
CNN anchor and chief correspondent Pamela Brown asked Turner for his thoughts on the discovery of classified documents at Biden's private home in Wilmington, Delaware, and how that compares to Trump's situation.
"I want to go back to what you said in August after the FBI search [Trump's resort home] Mar-a-Lago. We interviewed you right after, and in that interview you seemed to downplay the seriousness of classified documents at Mar-a-Lago," Brown said in Saturday's interview. She then played part of Turner's August Remarks
In that previous interview, the GOP lawmaker said, "We don't really know that this information is classified." He said investigators needed to look at "the substance" of what Trump took from the White House.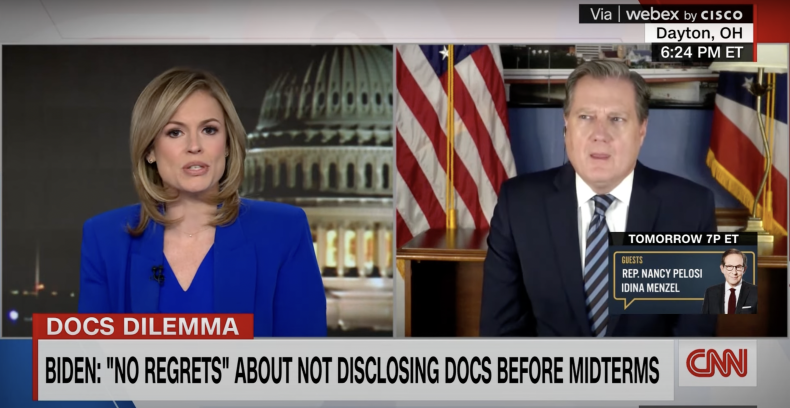 "It looks like you changed your tune," Brown said after playing the clip from the August interview. "[You're] to say that the discovery of Biden's classified information would potentially put him in a potential violation of national security laws," she said.
Turner responded by claiming there was a difference between the two situations and suggesting his comments had been taken out of context. "President Trump's house should not have been searched. That's the big difference between here and President Biden's situation," said Turner, who is the senior member of the House Permanent Select Committee on Intelligence.
"This inequality, this hypocritical aspect, especially from President Biden after he condemned Trump and then did the same," he added.
However, White House Office spokesman Ian Sams recently said Biden has "an obligation to act responsibly and to act appropriately." The Justice Department conducted a search of Biden's Delaware home that began Friday. News of the search broke Saturday night, and six other classified items were discovered.
Earlier this month classified documents were found at Biden's private home in Wilmington, Delaware. The documents date from his time as Vice President under former President Barack Obama. Some of the documents also date from when Biden was a senator from 1973 to 2009.
A previous batch of confidential notes was also discovered on November 2 by Biden's attorneys at his former office at the Penn Biden Center for Diplomacy and Global Engagement Think Tank in Washington, DC
Pointing out some of the differences between the two situations on Saturday, the CNN host told Turner, "If you're intellectually honest with yourself, that's the main difference [is] that Trump and his team resisted a subpoena."
"They said they turned everything over, and yet as the investigation progressed, evidence developed that classified documents were being moved, leading to this obstruction of the judicial inquiry. So that's a key difference as to why the FBI searched his [Trump's] residence," added Brown.
The Department of Justice (DOJ) has previously asked a federal judge to keep Trump's office in contempt of court over concerns he still hasn't returned all top-secret materials removed from the White House.
The former president was originally subpoenaed to return the classified materials in May. Trump's lawyers assured the FBI that all of the materials were returned in June. But in August, the FBI seized hundreds of classified documents, including those marked top secret, from his Mar-a-Lago property in Florida.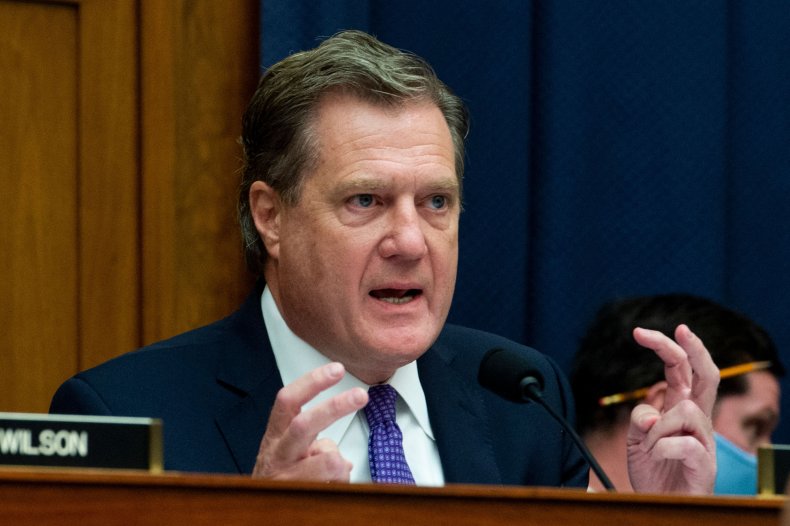 Although Brown repeatedly insisted Saturday that Trump had months to cooperate and return classified documents before the FBI raid, Turner argued Attorney General Merrick Garland took "several steps" he could have taken before conducting the search approved in Mar-a-Lago.
"It's about searching the home of the former president, President Biden's political rival, that's such a high level of scrutiny," Turner said on CNN during the exchange. "And they can't claim that it was because national security was at risk because they didn't even ask anyone who is in national security."
Retired Lt. Gen. Mark Hertling, along with others, took to Twitter to praise Brown's interview with Turner. He argued she helped highlight Republican "hypocrisy."
"@RepMikeTurner's interview by @PamelaBrownCNN is just one indicator of the @GOP's hypocrisy. Well done Pam," Hertling wrote.
news week reached out to Trump's media office and the House Permanent Select Committee on Intelligence for comment.
https://www.newsweek.com/gop-rep-confronted-downplaying-trump-documents-probe-then-ripping-biden-1775585 GOP Rep. Faced With Downplaying Trump Documents Investigation and Ripping Up Biden