GOP Senate hopeful twice avoids answer if she wants Trump's endorsement
Washington state Senate nominee Tiffany Smiley, a Republican, declined to say under pressure in an interview Sunday whether or not she wants confirmation from former President Donald Trump.
Smiley is challenging incumbent Senator Patty Murray, a Democrat, in November's midterm elections. In her interview on CNN state of the nationHost Dana Bash twice asked Smiley if she wanted Trump's support.
"In March you told McClatchy that you welcomed the support of former President Donald Trump. They said, 'If the President wants to support us, that's great.' Do you still want the support of the former president, do you want him to run for you in Washington state?" asked Bash.
"This campaign has been so successful, we have a strong grassroots movement because I have focused on supporting Washington state voters. If someone from our party wants to support me, stand behind me, support us, that's great. ' replied the Senate hopeful.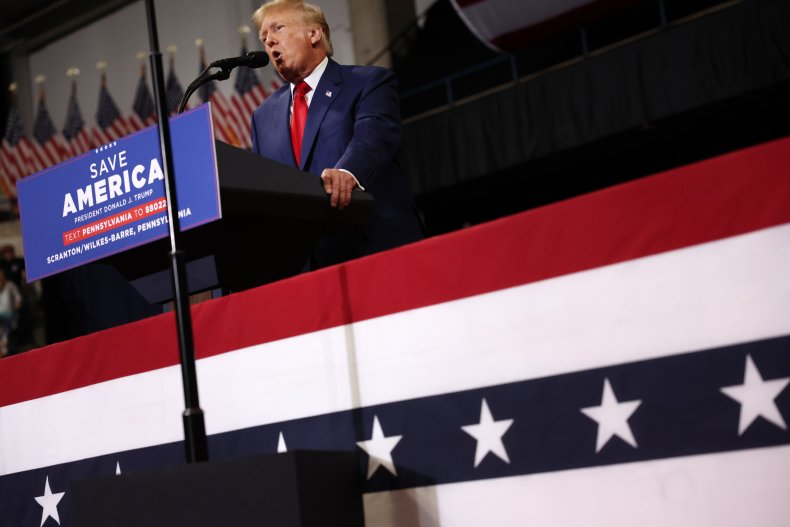 "I'm laser focused on retired career politician Patty Murray who has forgotten Washington state… She fights for Washington DC, I will fight for Washington state voters," she added.
However, Bash then repeated the question: "Do you want confirmation from Donald Trump, yes or no?"
"I'm laser-focused on delivering results for Washington state voters, and I knew that from day one. I'm focused on the future and we have a state to save, real people are suffering here in Washington state. ' said Smiley.
news week has reached out to Smiley's campaign for comment.
Ahead of the November midterm elections, Trump is campaigning for and supporting Republican candidates nationwide. On Saturday, he attended a rally in Wilkes-Barre, Pennsylvania, for US Senate nominee Dr. Mehmet Oz and gubernatorial candidates Doug Mastriano, who compete.
In an interview on Saturday, ex-GOP Rep. Charlie Dent said Trump gave Democrats a "great gift" by holding the rally.
"Just by showing up in Pennsylvania he makes the election a lot more of a person, and of course most Republican candidates in this general election don't want anything to do with Donald Trump, they want it to be about Joe Biden and the Democrats. ' Dent told CNN.
As Republicans challenge incumbent Democrats in hard-fought Senate races across the country, Senate Minority Leader Mitch McConnell recently expressed some skepticism about how the GOP will fare in the midterm elections.
In an interview last month, the Kentucky Republican said it was "bigger" that Republicans could cede control of the US House of Representatives in November this year than the Senate.
https://www.newsweek.com/gop-senate-hopeful-twice-avoids-answering-if-she-wants-trumps-endorsement-1739730 GOP Senate hopeful twice avoids answer if she wants Trump's endorsement