Graham accuses Dems of trying to destroy the "legitimacy" of the conservative Supreme Court
Senator Lindsey Graham on Tuesday accused Democrats on the Senate Judiciary Committee of making "a concerted effort" to delegitimize the conservative-majority Supreme Court.
Committee Chairman Dick Durbin, D-Ill., convened the hearing to discuss Supreme Court ethics reform in light of recent reports that Justice Clarence Thomas was vacationing with a wealthy friend who is also a GOP donor.
But ranking member Graham, RS.C., said the hearing was "a concentrated effort by the left to delegitimize this court and cherry-pick examples to make a point."
"This attack on Judge Thomas goes well beyond ethics," Graham said. "It's about delegitimizing a conservative court that was appointed through the traditional process."
REPORT ON TRAVEL HABITS BY CLARENCE THOMAS IS "POLITICS PLAIN AND SIMPLE": EXPERT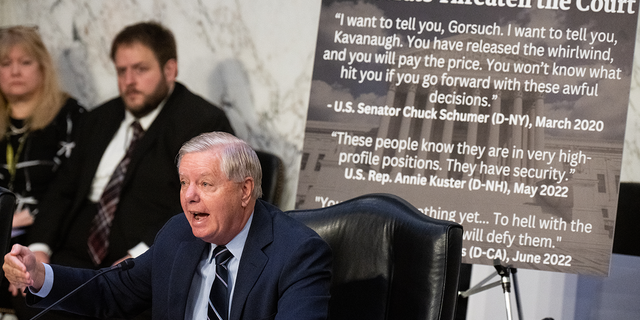 "Their response was to grab the dish," Graham said. "Virtually every member of the Democratic Group, except maybe one or two, is in favor of increasing the number of judges to dilute the conservative majority that exists today."
"Well, Mr. Chairman, from our point of view this will not work. You can write any article you want to write. You can take all the shots that the conservative judges want to take. You can picket in front of their houses, and it's not going to stop people from doing their jobs," Graham said.
"This is an unseemly attempt by the Democratic Left to destroy the legitimacy of Roberts Court, it endangers people, it endangers their personal security," he said.
JUSTICE THOMAS DEFENDS TRAVELING WITH 'DEAR FRIENDS' AFTER REPORTS CLAIMED THAT HE HAS ACCEPTED GIFTS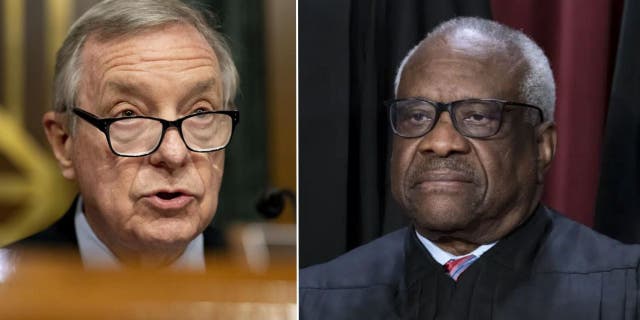 Graham referenced Judge Elena Kagan, who was formerly the dean of Harvard Law School and would naturally raise money for the school during her post. But as a justice, she has not backed down from cases involving law school, including last fall's Affirmative Action case against the school.
"I'm not saying she should," Graham said, "I'm just saying there's a very selective outrage here."
Graham asked panelists if they knew that the late Justice Ruth Bader Ginsberg donated an autographed copy of her decision in 1998 United States vs. Virginia which allowed women to be enrolled in government schools and auditioned at a fundraiser supporting the National Organization of Women's Legal Defense Fund.
"Why didn't all hell break loose in 1998? I think we all know the answer to that," he said.
SENATE DEMOCRATS DEMAND CHIEF JUSTICE ROBERTS TO OPEN INQUIRY AGAINST CLARENCE THOMAS FOR 'MISCONDUCT'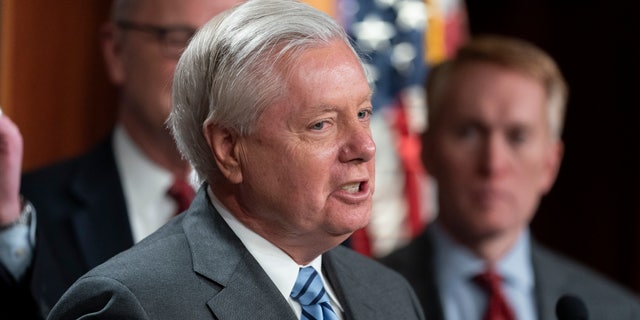 He also asked the jury if they were aware that she received an award from the National Democratic Women's Club in 1998.
"Can you imagine what would happen if Justice Roberts received an award from a Republican women's club? I think we might read more about it," he said.
CLICK HERE TO GET THE FOX NEWS APP
"This isn't about updating the court's ability to be more transparent, it's about destroying the legitimacy of this conservative court," Graham said.