Green apologizes to Jordan Poole after fight video: 'Huge embarrassment'
Golden State Warriors basketball player Draymond Green spoke for the first time Saturday about his physical altercation with teammate Jordan Poole.
A video showing Green, 32, punching Poole, 23, during a training session went viral on Friday after it was released by TMZ, sparking a wave of controversy and speculation online as to what sparked the incident could have. Speaking to assembled reporters at a Bay Area news conference on Saturday, Green didn't elaborate on what led to the strike, saying only that "things that happened in practice should stay in practice." ".
At the press event, Green confirmed that he had apologized to Poole and Poole's family. The player went on to say that he hasn't come forward to answer questions from the press until now. He also refuted rumors that the altercation had anything to do with upcoming contract negotiations, saying he's been dealing with personal issues lately that have affected his temper.
"Therefore comes a great embarrassment [the video] not just for myself…but for the embarrassment Jordan is dealing with…and for Jordan's family as well," Green said, according to ESPN reporter Kendra Andrews. "I needed to get a better sense of myself and where my wicks ended."
Green also announced that he would be retiring from the Warriors after the incident to focus on his issues. No specific timeframe was given, but Andrews tweeted that it would be "for a few days." The player estimated he'd be back in time for the Warrior season opener on October 18.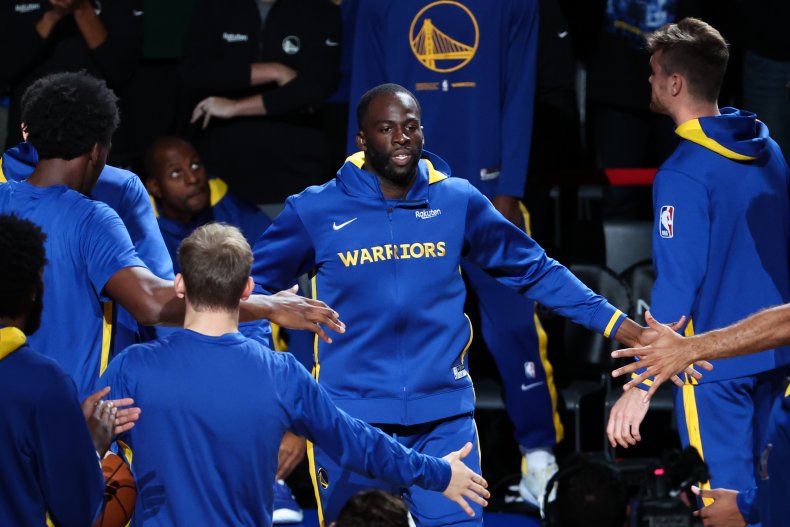 While he didn't try to downplay his mistake, Green said the video shared by TMZ Sports made the incident look worse to him than he remembered, at least when he first saw it. He also admitted to being suspicious of the clip as no other training session videos make it to the press.
"No other videos leak from practice," Green said. "When we work on our sets, that doesn't get leaked … But what I did was wrong, regardless of the video being leaked."
news week has reached out to the NBA for comment.
Warriors Coach will also speak on Saturday said Steve Kerr that fights like that between Green and Poole were not uncommon throughout his career but generally remained behind closed doors.
"It's like you have a camera in your family and there's a family fight," Kerr said, according to Andrews. "Would you really want to discuss this with the world? no In 32 years I've probably seen more than 20 fights. It shouldn't make it out of our walls."
https://www.newsweek.com/green-apologizes-jordan-poole-after-fight-video-huge-embarrassment-1750148 Green apologizes to Jordan Poole after fight video: 'Huge embarrassment'