Greene complains about focus on white supremacists after Buffalo shooting
Republican Rep. Marjorie Taylor Greene of Georgia recently complained about the focus on white supremacists and suggested America should focus on other issues.
"Jerrold Nadler was in the house talking about white supremacy," she said during an appearance on Real America's Voice, Raw Story reported Sunday.
Greene was referring to New York Democratic Rep. Jerrold Nadler's May 18 comments calling for a tougher response to hate crimes.
"And him [Nadler] brought up the horrific shooting that happened in [Buffalo] New York, but completely ignoring the shooting in California, which I believe an Asian man was the shooter," she added in an apparent reference to last week's Laguna Woods Church shooting in California, which left one dead and 5 others were injured. Authorities said the suspect was an "Asian man in his 60s" who was later identified as David Wenwei Chou.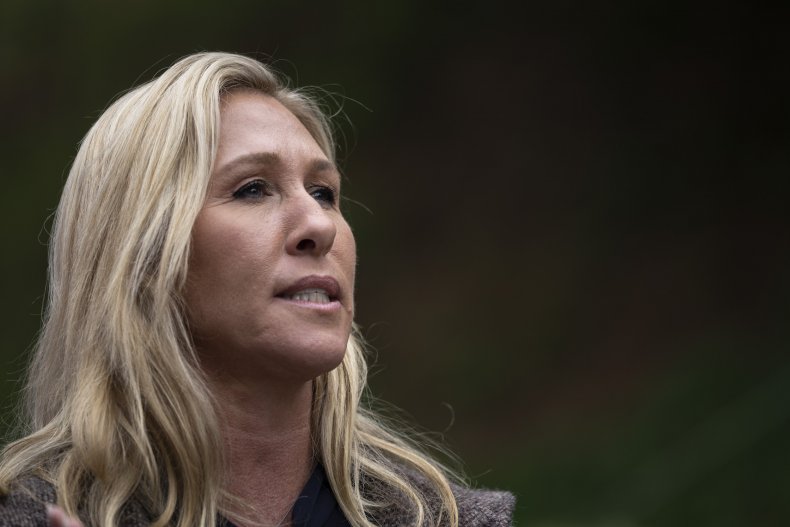 Her comments come after the mass shooting in Buffalo, New York earlier this month in which a white teenager allegedly fatally shot 10 black people at a grocery store. Authorities were investigating the shooting as a hate crime, which allegedly involved 18-year-old Payton Grendon, who was charged with murder, targeting a predominantly black neighborhood. A manifesto believed to have been posted by the teenager emerged on the internet after the shooting, containing anti-immigrant and white racist views.
This week, Nadler spoke about the Domestic Terrorism Prevention Act as he cited a number of crimes committed by white assailants, including the Buffalo shooting, the 2019 El Paso shooting and the 2018 synagogue shooting in Pittsburgh, among others.
"I would like to take my time to point out what these three cases have in common: the shooter was in each case a white man, each angry at the so-called 'surrogate theory', each of them traveling a long way back, each to investigate a minority community attack in the hope of terrorizing this community through mass murder," said Nadler, who serves as chairman of the House Judiciary Committee.
"We must act – and HR 350, the Domestic Terrorism Prevention Act," he added, noting that the law creates three bureaus that would monitor, investigate and prosecute domestic terrorism cases.
"These newly created offices would submit joint semi-annual reports to Congress assessing the domestic terrorism threat — with a particular focus on white supremacists — and would need to focus their resources based on the data collected and the most significant threats," Nadler added.
During her appearance on the Real America's Voice, Greene claimed that other shootings involving black suspects, including the Brooklyn subway shooting, did not receive the same attention.
"These people are guilty of all of these crimes and it's not about race," she said. "It shouldn't be about race. But they are also clearly racist."
After the Buffalo shooting, a new poll showed 75 percent of black Americans are concerned they or a loved one could be physically attacked because of their race. However, Greene insisted that "white supremacy should not be the primary goal."
"We should be more concerned about the illegal invasion of the border, the crime that happens on our streets every day, especially in cities like Chicago. We should prosecute criminals who break the law and not prosecute people based on the color of their skin and the behavior they choose. But that's what the Democrats want," she continued.
news week contacted Representative Greene's media office for comment.
https://www.newsweek.com/greene-complains-about-focus-white-supremacists-after-buffalo-shooting-1708966 Greene complains about focus on white supremacists after Buffalo shooting