Greene says AOC is "not that bright," calls herself a Southern belle
Rep. Marjorie Taylor Greene, a Republican from Georgia, called Rep. Alexandria Ocasio-Cortez, a New York Democrat, "not so smart" during her speech at former President Donald Trump's Michigan rally on Saturday.
"Democrats all worship climate as much as AOC and trust me I work with her and she's not that smart," said the congresswoman, who also describes herself as "Southern Beauty' while discussing her family's connection to Michigan.
"Michigan holds a special place in my heart," she said. "My father is from Trenton, Michigan. My grandfather worked at Great Lakes Steel… he was a member of the union there, as were so many others. So I might be a Southern belle and a Georgia peach, but Michigan runs in my blood."
Greene later accused President Joe Biden of calling Republicans "enemies of the state."
"Under Democrats, Americans like me and you face a future in hiding, fleeing persecution from a tyrannical Justice Department and the FBI, led by a president who has declared us all enemies of the state," the lawmaker said.
Biden took aim at Trump and his supporters about the "battle for the soul of the nation" during a speech in Philadelphia last month. During the fiery speech, he condemned what he saw as anti-democratic behavior by the Republican Party. He has blasted them for attacking the integrity of the 2020 presidential election, speaking out against abortion rights and trying to "turn this country backwards." Many in the GOP condemned the speech as Biden was accused of being partisan and divisive.
"But there is no question that today the Republican Party is dominated, driven and intimidated by Donald Trump and the MAGA Republicans. And that is a threat to this country. These are tough things," Biden said in his speech.
She later also told the crowd that Democrats had begun "killing" Republicans "for daring to stand up to the regime."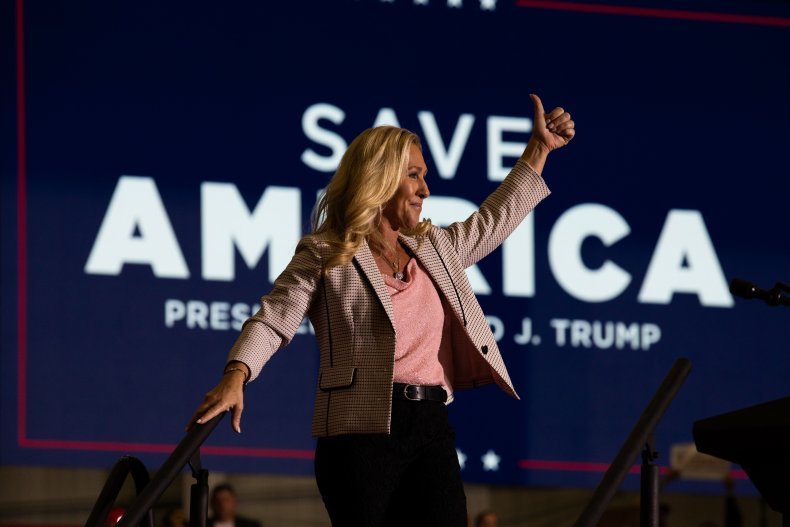 "I'm not going to mince words with all of you," she said. "Democrats want Republicans dead and have already started killing."
To back up her claim, Greene said an 18-year-old was "run over by a Democratic driver" just "because he was a Republican."
She was referring to an incident in North Dakota late last month when a man allegedly admitted fatally hitting a pedestrian with his car after the couple "had a political argument." The man later claimed the pedestrian was "part of a Republican extremist group," Fox News reported.
However, the congressmen's speech sparked a backlash on social media.
Marcus Flowers, a Democrat who hopes to unseat Greene in the November midterm elections, tweeted that Greene had "once again spread un-American, inflammatory and dangerous language."
Flowers added: "Her actions are under the office she holds. If elected, I will always serve with dignity and respect."
Meanwhile, The Republican Accountability Project tweeted that Greene's rhetoric was "dangerous and unacceptable."
Progressive commentator Brian Tyler Cohen said Greene "incited violence against her political opponents. If Republicans win a majority in the House of Representatives, she will be the de facto speaker."
Meanwhile, in his lengthy speech, Trump reiterated his unsubstantiated claims that the 2020 election was stolen from him due to widespread voter fraud. He also accused the Democrats of "fraud."[ing] like dogs" and suggested that they support abortion "even after birth".
"The Radical Democrats believe in abortion, from birth and even after birth. You can't allow that," said the former president. "No country in the world wants what these crazy people want. You are radical. They want to rip babies out of the womb."
news week contacted Greene and Ocasio-Cortez representatives for comment.
https://www.newsweek.com/greene-says-aoc-not-bright-calls-herself-southern-belle-1748210 Greene says AOC is "not that bright," calls herself a Southern belle