Greg Abbott hails Title 42 Stay after 'chaos' warning when policy expires
Republican Texas Gov. Greg Abbott has vowed to temporarily stay a Supreme Court decision ending Title 42 immigration policies.
The policy, implemented under the administration of former President Donald Trump and allowing authorities to expel migrants over concerns about a COVID-19 pandemic, was due to end on Wednesday following a federal district court ruling last month. An appeals court shot down a Republican-led attempt to overturn the verdict on Friday.
On Monday, Supreme Court Chief Justice John Roberts extended the policy, at least temporarily, by introducing a stay of the Court of Appeals' verdict. Abbott praised the decision in a tweet shortly after.
"Texas and other states are insisting that the court allow Title 42 to stand," Abbott said tweeted. "Today's order is a step in that direction. It helps prevent illegal immigration."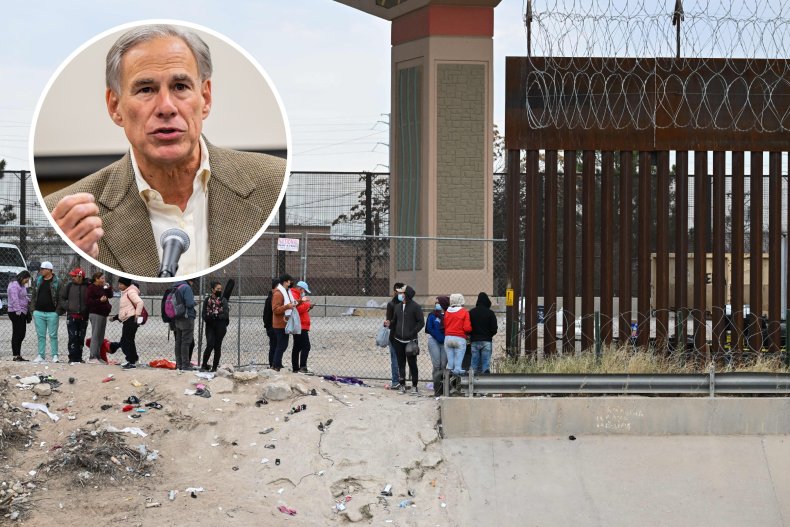 It's not clear how long the Supreme Court decision could delay the end of Title 42. President Joe Biden's administration has been given until Tuesday night to submit a response. The policy could remain in place for at least months if Roberts takes the case before the full court.
In an interview that aired on ABC This week On Sunday morning, Abbott warned that removing the public health policy would cause "total chaos" at the border.
Despite speaking out against COVID-19 restrictions, the Texas governor argued that the potential for migrants to carry the virus or another disease warranted keeping the policy in place.
"Unless the courts step in and stop the removal of Title 42, there will be total chaos," Abbott said This week Co-moderator Martha Raddatz.
"Whether it's COVID or some other issue, when people come in from all over the world without even knowing what their health status is, it's a public health risk almost by definition," he added. "There is every reason to keep it."
West Virginia Sen. Joe Manchin, a centrist Democrat who recently urged Biden to extend the policy, celebrated the Supreme Court ruling Monday and continued to urge a "permanent solution."
"There is an immigration crisis on our southern border unlike anything we have ever seen," Manchin said in a expression. "While I am pleased with Chief Justice Roberts' order that will temporarily avert a disaster, this is not a permanent solution."
"I am committed to working with my bipartisan colleagues to ensure that Congress and the Biden administration work together to find a comprehensive and bipartisan immigration solution," he added.
Others were less than pleased with the temporary stay. Sawyer Hackett, senior adviser to former Secretary of Housing and Urban Development Julian Castro, said Roberts' decision was part of a "fraud" to keep former Trump adviser Stephen Miller's legacy alive.
"The Supreme Court joins the fight of the political institutions (DHS, CDC, two White Houses, the media) who are perpetuating a public fraud with Title 42," Hackett said tweeted. "I hope history remembers how many people lied to keep Stephen Miller's legacy alive."
The Department of Homeland Security (DHS) said in a statement that those attempting to cross the border "will continue to be deported to Mexico" as the order remains in effect. The department urged members of Congress to fund border security while preparing for Title 42's eventual demise.
"While this phase of the litigation proceeds, we will continue our preparations to manage the border in a safe, orderly and humane manner when the Title 42 public health order is lifted," the DHS statement said.
"We urge Congress to use this time to provide the resources we have requested for border security and management and to advance the sweeping immigration policies President Biden proposed on his first day in office," it said.
news week has reached out to Abbott's office and the White House for comment.
https://www.newsweek.com/greg-abbott-hails-title-42-stay-after-warning-chaos-if-policy-expires-1768274 Greg Abbott hails Title 42 Stay after 'chaos' warning when policy expires