Greg Abbott lashed out as thousands in Texas lost power during a bomb storm
Texas Gov. Greg Abbott faced backlash on Friday after thousands of Texans were left without power due to an Arctic blast that slammed the state this week.
The storm brought freezing temperatures and strong winds to Texas on Friday, straining the state's power grid and leaving more than 77,000 customers without power. While the storm didn't cause widespread power outages like in 2021, some energy companies were forced to initiate smaller power outages to ease the load on the power grid after Texas authorities underestimated demand.
The outages increased political pressure on Abbott, whose administration has long faced scrutiny over its handling of the power grid. Much of Texas' electrical grid, managed by the Electric Reliability Council of Texas (ERCOT), is independent of that of the rest of the United States.
Heading into the winter storm, critics raised concerns that the cold temperatures would leave the state's power grid in a vulnerable state, resulting in increased power consumption and putting additional strain on a grid already viewed by many as unreliable.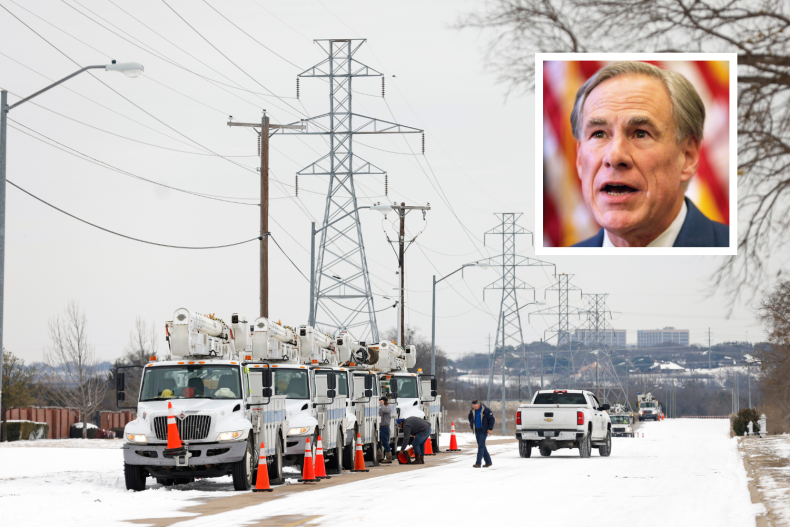 However, the power grid largely held up, averting massive power outages on Friday – although concerns remain that conditions could worsen over the bank holiday weekend. Power outages were caused by other factors, including damage from high winds or challenges faced by smaller power providers, rather than widespread grid problems.
That didn't help Abbott, who was called upon to fix the grid after the 2021 crisis, avoid a review of the blackouts as critics said it would still be less severe with a more reliable grid.
"Just a reminder that @GregAbbott_TX has done nothing to strengthen the Texas power grid all year. As we face this brutal freeze, thousands have already lost power," tweeted biologist Imogene Cancellare.
In a follow-up tweet, Cancellare explained that the power grid made the challenge more difficult.
"Texas cannot handle the simultaneous return of power in these cold temperatures and is being forced to manage outages in batches to avoid overloading the already inadequate system," she added.
Comedian Sean Kent tweeted: "I live in Texas and lost the power last night when it was below freezing. I didn't vote for Greg Abbott either. I feel like someone who voted for him should come and apologize to me."
Others also criticized Abbott after Texas electricity costs rose amid the storm. According to Bloomberg, prices topped the $500 per megawatt-hour mark in some areas on Friday, more than five times Thursday's price.
Former Democratic Senate nominee Sema Hernandez tweeted, "Texas electricity prices rise more than 400% in one day amid bomb cyclone. Thanks for the price gouging @GregAbbott_TX!"
Abbott, however, defended the power grid, arguing it held up well despite the freezing temperatures.
"The ERCOT network worked well again today. Yesterday Texas had its highest power demand of any winter. Today was the day with the second highest demand for winter electricity. In two extremely cold nights, the power grid did not fail. No Texan has lost any power because of the ERCOT grid," the governor tweeted.
However, in the face of potential outages, ERCOT has successfully asked the Department of Energy to circumvent some emissions standards designed to help protect the environment to improve power grid reliability, according to KHOU, a Houston-based television news channel.
ALLY Energy CEO Katie Mehnert responded to Abbot's tweet, writing: "Yes. It worked 'well' after getting @ENERGY/feds to circumvent emissions standards. Do better."
news week contacted Abbott's press office for further comment.
https://www.newsweek.com/greg-abbott-slammed-thousands-lose-power-texas-during-bomb-cyclone-1769505 Greg Abbott lashed out as thousands in Texas lost power during a bomb storm