Hakeem Jeffries blasts Republican 'dysfunction' in battle for Speaker of the House
Rep. Hakeem Jeffries, a New York Democrat, railed against what he sees as Republican "dysfunction" in the House Speaker race.
On Tuesday, Californian Kevin McCarthy, who was the House Minority Leader, repeatedly failed to get enough support in his bid to become the next speaker. There are 222 Republicans in the House of Representatives, and he needs the support of 218 if each member submits a ballot.
A faction of hard-line conservatives refused to pick McCarthy, instead opting for Ohio's Jim Jordan in Tuesday's third round of voting. In the fourth round on Wednesday, anti-McCarthy Conservatives endorsed Florida's Byron Donalds.
The Democrats, on the other hand, supported Jeffries with every vote in every round.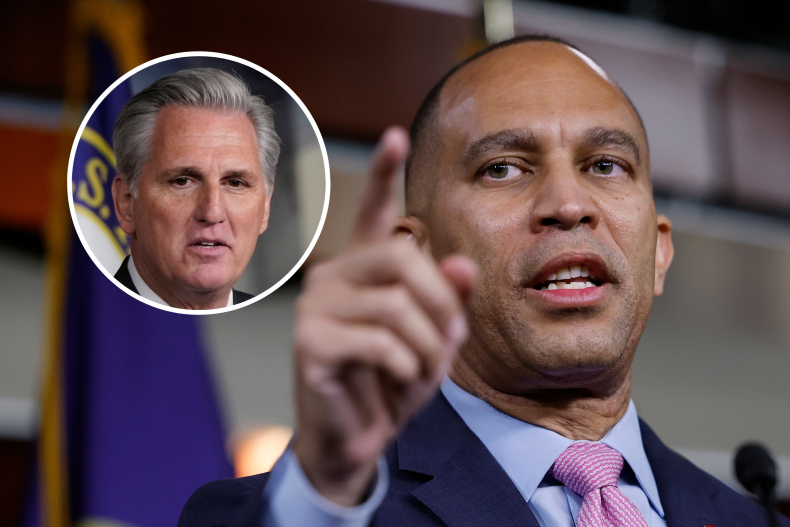 The standoff marks the first time in a century that the House of Representatives failed to choose a speaker on the first ballot.
Jeffries' comments came in response to a question from NBC News' Ryan Nobles, who asked if Democrats could rally behind a consensus candidate — possibly a moderate Republican — for the role.
"We are looking for a willing partner to solve problems for the American people, not to save Republicans from their dysfunction," Jeffries replied. "We need a government partner to build on the incredible strides we've made for the American people in recent years — by a similar majority, by the way."
Jeffries was elected leader of the House Democrats in November. He replaced longtime spokeswoman Nancy Pelosi, who decided to step down from her leadership role. It was the first time in history that a black man was appointed leader of a party in Congress.
Jeffries credited Pelosi with helping usher in a litany of victories for Democrats, citing America's COVID-era bailout plan, infrastructure improvements, domestic job creation and lower prescription drug costs.
"These are just the highlights of what the Democrats achieved with a similarly narrow majority," Jeffries said. "So we're ready to get down to work to build on those achievements if we find a partner willing to govern on behalf of the American people."
Some have praised the congressman for his approach to the House vote.
"Mr. Jeffries will be a great leader," Michigan GOP Watch tweeted Wednesday morning along with CSPAN's clip of the exchange. "This is a perfect answer to GOP dysfunction."
Other politicians also retweeted the video, including Georgia Democrat Marcus Flowers, who lost to GOP Rep. Marjorie Taylor Greene during the November halftime term.
"This must be repeated," wrote the former congressional candidate in a tweet.
On Tuesday, shortly after the 118th Congress was called, Jeffries highlighted the GOP's internal party troubles on his own social media page.
"Day one. House Dems are united and ready to get to work," he tweeted. "Complete chaos across the aisle."
When approached for comment, Jeffries' office said the tweet speaks for itself.
https://www.newsweek.com/hakeem-jeffries-blasts-republican-dysfunction-battle-house-speaker-1771345 Hakeem Jeffries blasts Republican 'dysfunction' in battle for Speaker of the House