Haley Lu Richardson raves about her dream gig as the Jonas Brothers cover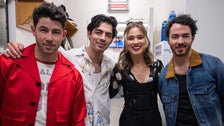 Haley Lu Richardson went to the "year 3000" and back while she gushed about it Jonas Brothers while he was a correspondent for the Jo Bros during their "Today" Show concert on Friday.
"I love you Kevin, I love you Nick, I love you Joe," Richardson said as the band walked past her before their show.
She added: "They love me too, they said so. Have you heard?"
Richardson said before the show that her job was to be "functional," not to cry and not to pee her pants.
"Wish me luck," she said on Thursday.
richardson, in an interview with People, said he was a big fan of the group. She called meeting the Jonas Brothers at age 12 a "dream come true" and joked she wishes she could be a "sister wife" to the brothers, who are all married.
The actress eventually admitted during her appearance on the Today show that she hadn't fully listened to the Jonas Brothers' latest work, but did show her appreciation for the singles 'Wings' and 'Waffle House.' according to Entertainment Weekly.
She continued to enjoy the moment and claimed so Kevin Jonas winked at her through his sunglasses on Friday.
"This is absolutely amazing because they are right there. They're here and I was right there," Richardson said.
Richardson also once smiled from ear to ear when she praised the band for their "11 out of 10" performances.
"Wow, you really are speechless," remarked Today host Dylan Dreyer.
"Oh yes. Did I say words? "Yes," Richardson replied, before joining Dreyer in surprising a "superfan" with tickets to the Jonas Brothers tour.