Hamas' war against Israel offers sobering clarity in the fight against evil
The attacks on Israel that began Saturday morning will undoubtedly be viewed by some as the latest, if unusually brutal, attack in the region's seemingly unbroken cycle of violence.
But today it's different. Today is a day that will go down in history as one of the darkest in Israel. And in the coming days and weeks, as the shock and fog of war fade and the full impact becomes clear, this could be a turning point in the West's fight against terror.
It is already clear that Palestinian terrorists have crossed a border like never before. Many nations have quickly declared that the brutality committed by Palestinian terrorists is unacceptable. Unsurprisingly, however, many more nations have remained silent, or worse, tried to explain away from brutality to adapt it to their own political perspectives and worldviews. You are deeply wrong.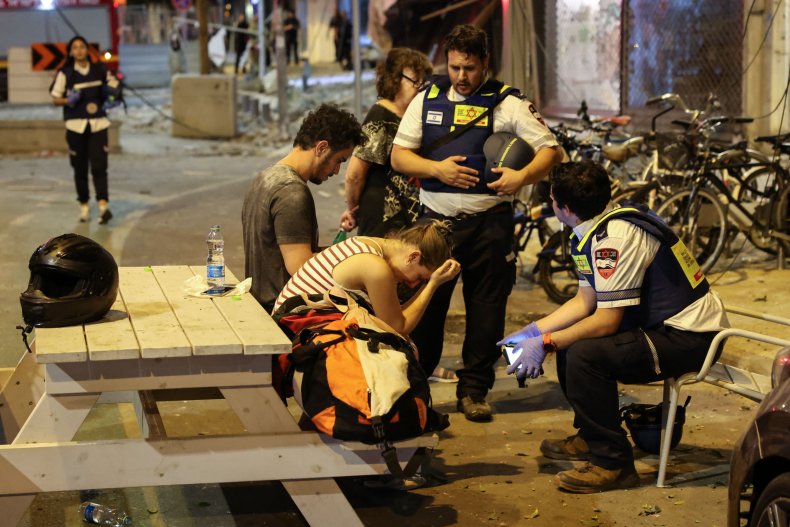 At a time when the line between right and wrong is constantly blurring, this is a moment of sobering clarity.
Hamas has sunk to a level of cruelty that should shock us to the core. The terrorist group infiltrated Israel by land, air and sea and attacked surrounding communities. They slaughtered the elderly, shot civilians in their homes, kidnapped mothers with babies in their arms, mutilated the bodies of men and women, and paraded their victims through the streets of Gaza in a solemn parade.
Through these and many other inhumane acts, Palestinian terrorists have shown that their fight is not about settlements, checkpoints, or the myriad other policies that Israelis and Palestinians argue about. This weekend we saw what Palestinian militants and their supporters mean when they tell us they want the land "From the River to the Sea." They want every inch of land – every city, every kibbutz, every settlement and every village – between the Mediterranean and the Jordan, and they want it cleansed of every single Jew.
This is a moment of reckoning for every leader and institution that has for years sent the message that Palestinians are free to respond to their real struggles and needs by any means necessary to defeat the "Zionists".
Palestinian Authority President Mahmoud Abbas responded to the attacks by expressing solidarity with the Palestinian people Justification of the attacks in response to the "terror of the settlers and occupying troops". But the terrorists weren't targeting settlements; They attacked communities near the Gaza border where families were at home celebrating Shabbat and the Jewish holiday of Simchat Torah. There is no partner in peace in a man who does not have the courage to condemn gunmen who held families hostage and kidnapped children.
This attack comes almost 50 years to the day after the country was surprised in the 1973 Yom Kippur War and at a time when the country is grappling with internal conflict over how to move forward as a democracy. After 75 years of open hostility, Israel will survive this crisis.
Instead, this will be a defining moment for every other nation, especially those that stand for freedom, human dignity and the rule of law. As welcome as the many tweets of solidarity were, we must look forward.
Israel is already attacking targets in Gaza and there is no doubt that fighting will continue in the coming days and weeks as Israel struggles to return its captive citizens and dismantle the terror infrastructure that planned and carried out these attacks.
This will mean that destruction and devastation will descend on Gaza and many Palestinians will be killed. Soon after, a familiar cycle begins. Shocking images – some real, some fake "Pallywood", some recycled images – of destroyed homes and shattered Palestinian families – will appear on the front pages and be shared online along with outraged messages.
There will be a battle of narratives. Intentions will fade and condemnations will begin. Social media is already abuzz with apologists gleefully posting images of people celebrating the death and abduction of Israeli children. academics and human rights experts wondering why the White House calls the terrorists "terrorists." And experts defend the brutality as "Armed indigenous people take back their land from colonizersand in doing so astutely ignores the fact that Jews are native to the land of Israel.
Many aspects of the Israeli-Palestinian conflict are up for debate as we strive for long-term stability and a time when all peoples can live in peace, security, dignity and opportunity. But some things cannot be interpreted. One can be deeply troubled by the plight of the Palestinians and yet retain the moral clarity to recognize that certain lines should never be crossed – that we must never confuse the terrorists who target civilians with an army that targets them terrorists attacking their civilians.
Every nation, institution and leader is informed. One day books will be written, courses taught, and films made about these events. History is watching, and we are all on record.
Aviva Klompas is co-founder of Limitless, a nonprofit organization that works with community leaders to support Israeli education and combat Jew hatred. She also served as a speechwriter at the Israeli mission to the United Nations.
The views expressed in this article are the author's own.