Harry Styles' latest 1D reference is a cheeky nod to one of their best songs of all time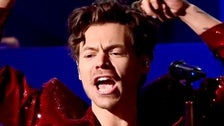 Harry Styles caused giggling fans with pure potty humor on Tuesday.
The "As It Was" singer made a cheeky nod to his now-defunct boy band One Direction on Instagram, where he posed for a photo in front of a teal porta potty holding a sign that reads "Best Schlong Ever."
Although the sign appeared to be an announcement, it was actually a crude overhaul of the 1D title Best Song Ever.
The photo appears to have been taken backstage during the Sign of the Times singer's Love On Tour concert in Coventry, England earlier this month.
Though One Direction went on indefinite hiatus in 2015, Styles still gets nostalgic at times. Superfans loved it when he wore one Vintage 1D shirt hit the gym in a photo posted back in March.
"I feel like it's not a yes or no question," he told TV host James Corden in April. "I would never say never to that."
"If there was a time when we all felt like that was what we wanted to do, then I don't see why we wouldn't do it."