Harry was "nervous" when he asked Queen to take part in Obama Invictus Sketch—Book
According to a new bio, Prince Harry was "nervous" at the prospect of asking his grandmother, Queen Elizabeth II, to take part in a video skit for his Invictus Games project in 2016.
The Prince and Queen ended up filming a humorous clip responding to an incoming "video call" from then-President and First Lady Barack and Michelle Obama.
Harry, according to the new book Courtiers: The hidden power behind the crown of the prominent British royal correspondent Valentine Low, was reluctant to approach Elizabeth with the request for fear it would put her in an "embarrassing position".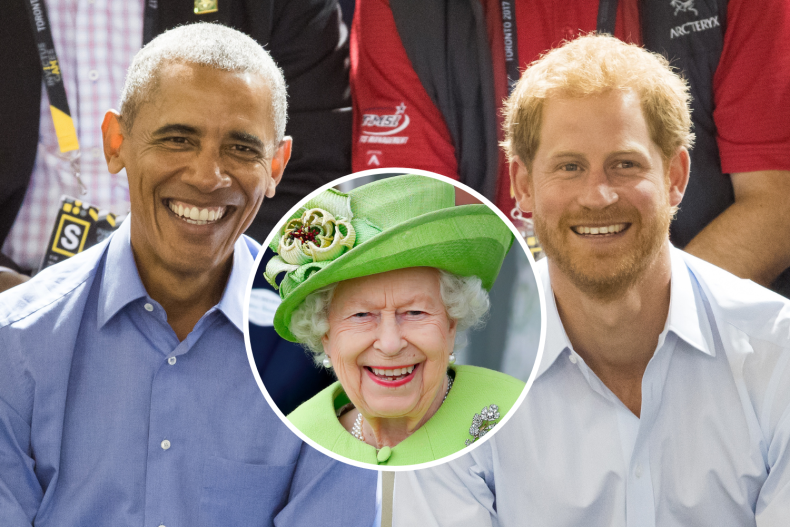 courtiers has made headlines across the UK for his numerous revelations about members of the royal family and their closest associates, including an in-depth analysis of Harry and his wife Meghan Markle's relationship with their team while they worked for royals.
Low is best known for exposing the history of bullying allegations made against Meghan Markle by former Kensington Palace staff, which were made public in the days before the couple's interview with Oprah Winfrey aired in 2021.
Low writes that in 2016, before the second Invictus Games, Harry was sent a video by the Obamas. They were supposed to take place in Orlando, having been founded by Harry in 2014.
"A few days before they were due to depart, [Clara] Loughran [Harry's communications secretary] received a message from his White House counterpart," the author writes.
The message included video showing the Obamas alongside a number of military personnel.
"Hey, Prince Harry. Remember when you told us to 'bring' it to the Invictus Games?" said the first lady.
"Watch what you wish for!" the President added, before a soldier mimics a microphone-drop action and says "Boom."
"Both Harry and Loughran, who saw it together, thought it was brilliant," Low wrote.
"Their immediate reaction was that they had to come up with something good in response. Harry said, 'I have to involve the Queen, don't I?'"
Here, the author writes, the prince showed some hesitation in approaching the monarch with a request. "It made him nervous. 'I don't want to put her in an awkward position,' he said. 'I don't know if that will detract from everything she does.'
It appears the King needn't have worried as the Queen was "more than willing to help" on the plan, which would involve taking part in a short video response to the US leader.
"Two days later, Harry… went to Windsor Castle to meet with a film crew," explains Low.
"A source recalled, 'The plan was [for] Harry, having tea with his grandmother, explaining what we would like to do, then we would come in at the end and do what we had to do. Harry had run over himself from Kensington Palace. The traffic was awful, he was running a little late and was nervous about what was going to happen next.'
The 40-second video reportedly only lasted two takes, with Harry showing his grandmother the clip in her Windsor salon, where she responded to the Obamas' challenge with a dry, 'Oh, really… please!'
"After that, Elizabeth said, 'Oh, that's quite fun.' She added, "People should ask me to do this more often." As a source said, "She's been wonderful. She was obviously quite happy with it and wanted to support her grandson. She wanted to support the cause and was willing to have some fun in the process."
The monarch previously performed an on-screen skit in 2012 in which she appeared alongside James Bond, played by Daniel Craig, in a video shown at the London Olympics opening ceremony.
In 2022, just three months before her death, the Queen appeared on screens again, this time alongside Paddington Bear to open a video opening the Platinum Jubilee concert outside Buckingham Palace.
Elizabeth died on September 8 while staying at her Scottish home, Balmoral Castle.
Harry was visiting Britain on a pre-arranged visit to attend charity events when news of the Queen's death broke. He stayed in the country with Meghan to attend the mourning ceremonies and state funeral for his grandmother on September 19.
Do you have a question about King Charles III, William and Kate, Meghan and Harry or their family that you would like our experienced Royal Correspondents to answer? Email royals@newsweek.com. We'd love to hear from you.
https://www.newsweek.com/prince-harry-nervous-queen-obama-invictus-games-skit-book-valentine-low-1749751 Harry was "nervous" when he asked Queen to take part in Obama Invictus Sketch—Book