Hays County mom who lost her son to drug overdose puts up billboard to raise awareness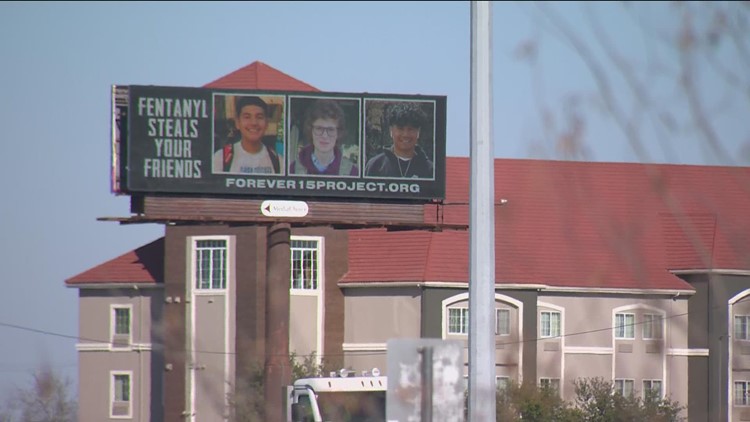 Through her organization, the mother paid for a billboard located off I-35 near the Buda/Kyle city limits.
HAYS COUNTY, Texas – A Hays County mother who lost her son to an overdose is using a billboard along Interstate 35 to raise awareness of the dangers of fentanyl.
Janel Rodriguez booked the billboard, which features her son Noah and two others Hays CISD deceased students. She hopes that enough people see it along I-35 that it can prevent more drug overdoses.
"I miss him. There are no words to express how much I miss him. He was my baby," said Rodriguez.
Noah attended Johnson High School in Buda and enjoyed playing football.
"He was everything," she said.
Rodriguez said her son overdosed from fentanyl poisoning after taking a pill in August 2022.
She raised money through her organization Forever15project.org to have the poster advertising set up.
In the past year, there have been at least four fentanyl-related deaths among Hays CISD students. As of January 9, a fifth potential death is under investigation.
"Fentanyl is here and it can take your loved one. And never think that this can't happen to you because I had an honor student, an athlete, and he's gone. If it doesn't come from your pharmacy, "Your doctor, don't take anything off the street, from a friend, anything you find on the floor. It's just not worth the risk," Rodriguez said.
The rotating billboard runs along I-35 near the Buda/Kyle city limits. The billboard started running on Sunday and will be operational for at least three months.
Rodriguez hopes there can be more billboards like this one. She's considering adding one in Jarrell and Converse, too.
"I've made it my mission to raise awareness to hopefully prevent this from happening to another family," Rodriguez said.
https://www.kvue.com/article/news/local/hays-county-mom-who-lost-son-to-overdose-puts-up-billboard-for-awareness/269-c9a4c61b-f060-43ef-92cf-6a9fed5043c2 Hays County mom who lost her son to drug overdose puts up billboard to raise awareness