Heartwarming footage shows firefighters rescuing puppies stuck in a turtle cave
Firefighters rescued two curious puppies who broke into a turtle burrow and were prevented by Oscar from exiting a giant 100-pound turtle that was blocking the exit.
The rescue took place at a home in Yucca Valley, San Bernardino County, California.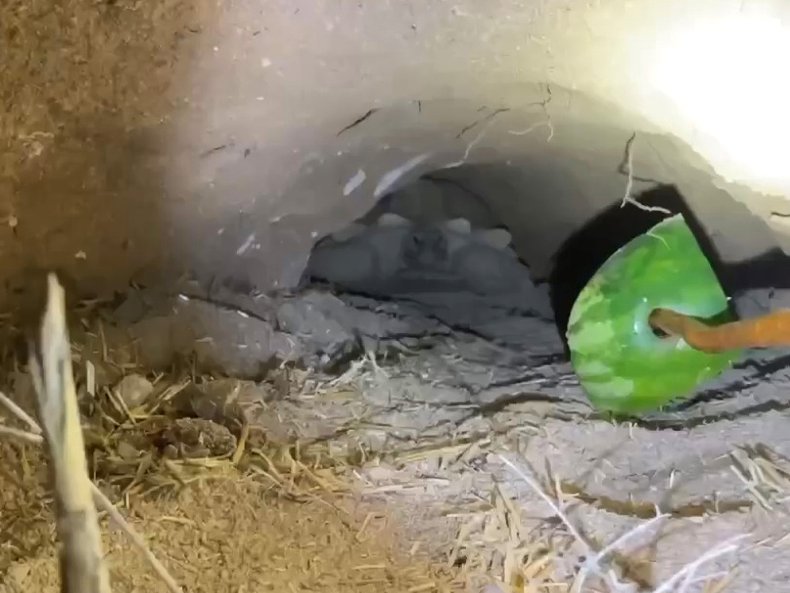 The San Bernardino County Fire Department said two 5-month-old puppies got into the turtle's den and were prevented from leaving by Oscar.
The 100-pound turtle blocked the pups' exit from the burrow and firefighters were called to dig them out.
After all attempts to lure Oscar out of the way with chunks of watermelon proved unsuccessful, firefighters spent over an hour digging a tunnel to the dogs' location.
The two puppies, named Peo and Finn, were then reunited with their concerned owner, Kathleen.
The footage shows the firefighting team arriving at the scene and trying to lure Oscar out of the hole with the watermelon. Firefighters then dig the tunnel into the cave and rescue the two dogs while Kathleen goads them.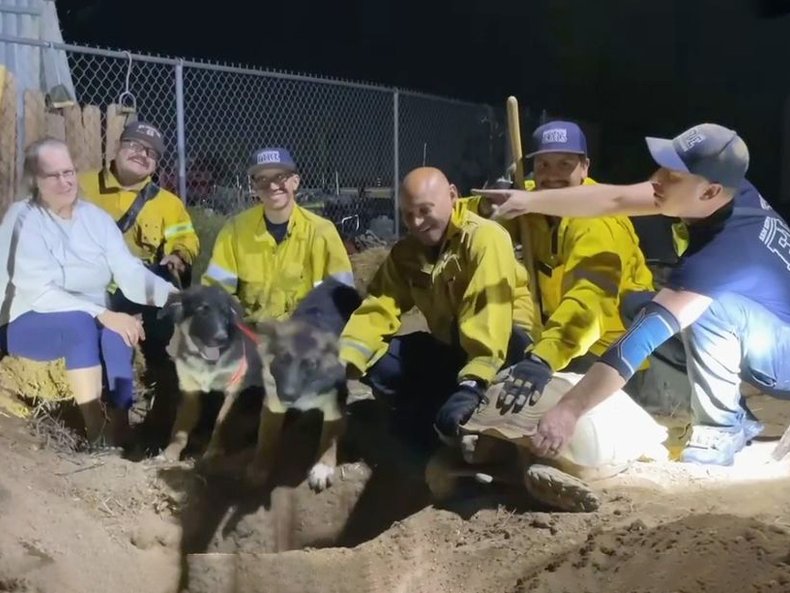 The San Bernardino County Fire Department said June 22, "Firefighter crews have been requested for a unique public service operation in the Yucca Valley.
"Two curious five-month-old puppies had entered a turtle den and were unable to exit because a 100-pound turtle blocked their exit. Residents were concerned as the dogs had been in the den for several hours and were silent.
"SBCoFD ME42 & MA42 arrived to find a large underground turtle den with two pups inside and a 100lb turtle blocking the exit.
"Firefighters tried to lure Oscar, a large desert tortoise, out of her burrow so the firefighters could get to the pups.
"The tasty watermelon trick was unsuccessful and the firefighters went to Plan B and dug.
"When Oscar blocked the exit, teams worked to dig an access hole to rescue the dogs. After an hour of digging, the teams were able to retrieve the pups from the den.
"Peo and Finn were unharmed and happy to be reunited with their dog mom, Kathleen."
Police added: "We are glad we were able to assist with this unique call and there was such a positive outcome!"
Last weekend, rescuers in Tennessee spent three hours rescuing a dog named Killer after he fell into a "deep" sinkhole. A member of the rescue team was lowered into the sinkhole using special equipment and managed to locate the dog, who Hawkins County Rescue Squad said was "very excited to see him."
And earlier this year, Newsweek reported on a golden retriever that was rescued by firefighters in Illinois after falling into a sinkhole. The dog had been gone for 24 hours.
This story was provided by Newsweek Zenger News.
https://www.newsweek.com/footage-shows-firefighters-save-puppies-stuck-tortoise-den-1720163 Heartwarming footage shows firefighters rescuing puppies stuck in a turtle cave