Henry Kissinger and Noam Chomsky find rare similarities in the Ukraine war
Longtime political enemies Henry Kissinger and Noam Chomsky found a rare common ground in the war between Russia and Ukraine.
The two come from opposite ends of the political spectrum — Kissinger served as secretary of state under Republican presidents and Chomsky, one of the leading left-wing intellectuals in the United States — and have frequently clashed.
But as for the Russian invasion of Ukraine, both have recently spoken out in favor of Ukraine considering a deal that could see it drop claims to some land in a bid to reach a faster peace deal.
During his speech Monday at the World Economic Forum in Davos, Switzerland, Kissinger, who was Secretary of State to Presidents Richard Nixon and Gerald Ford in the 1970s, encouraged Ukraine to accept a peace deal with Russia to end the war.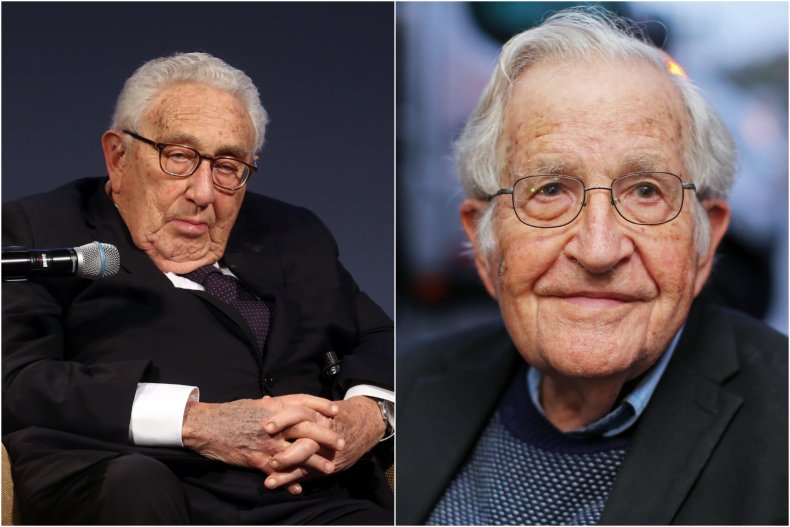 He said negotiations should start in the next two months, before the conflict "creates upheaval and tensions that will not be easily overcome".
He advised European leaders to consider their long-term relationship with Russia and not risk further strengthening ties between the Kremlin and China – one of its strongest allies amid the invasion, according to the Telegraph.
"Ideally, the dividing line should be a return to the status quo ante," Kissinger said. "To continue the war beyond this point would not be about the freedom of Ukraine, but about a new war against Russia itself."
In 2014, Russia annexed Crimea while separatists declared Donetsk Oblast and Luhansk Oblast independent. A return to the "status quo ante" would leave these regions as they were before the invasion.
He added that he hopes "that Ukrainians will match with wisdom the heroism they have shown".
In an interview with British journalist Owen Jones this month, Chomsky, a left-wing political philosopher and professor at the Massachusetts Institute of Technology known for his anti-war views, made critical remarks about the Western response to the conflict, calling his views a "Western Propaganda system" that spreads the idea that Ukrainians want more guns.
He said that while he is not opposed to sending arms to Ukraine, as long as it is done with genuine concern for Ukrainians, it must be done "in a way that does not allow the Russian attack to escalate and, of course, can lead to the destruction of the." Ukraine."
Chomsky described the possibility of a "fairly reasonable settlement" in which Ukraine would commit to neutralization, not join the North Atlantic Treaty Organization (NATO), postpone the Crimea issue and "move towards some sort of settlement in Donbass."
He went on to criticize the US and UK for not supporting such a proposal. But on Monday, US Secretary of Defense Lloyd Austin said that Ukraine – not the United States or NATO – had the authority to dictate the end of the war.
https://www.newsweek.com/henry-kissinger-noam-chomsky-find-rare-common-ground-over-ukraine-war-1709733 Henry Kissinger and Noam Chomsky find rare similarities in the Ukraine war