'Hero' Cameraman Helps Hurricane Ian Victims On Live TV
A cameraman dropped his gear and ran to the aid of a family fleeing floodwaters from Hurricane Ian during a live newscast Wednesday.
Hurricane Ian left a trail of stunning debris in Florida, where it struck as a Category 4 hurricane with maximum sustained winds of 150 miles per hour, one of the strongest storms to strike the United States. Florida officials reported at least 21 deaths as the storm slammed into South and North Carolina on Friday.
Floridians beginning to assess the damage have gutted homes and businesses, fallen trees and floating cars in coastal towns like Fort Myers, which a local politician has said "need to be fully rebuilt." Sanibel Island was cut off from the rest of Florida after portions of the Sanibel Causeway were completely washed away, "changing the community forever," Mayor Holly Smith said.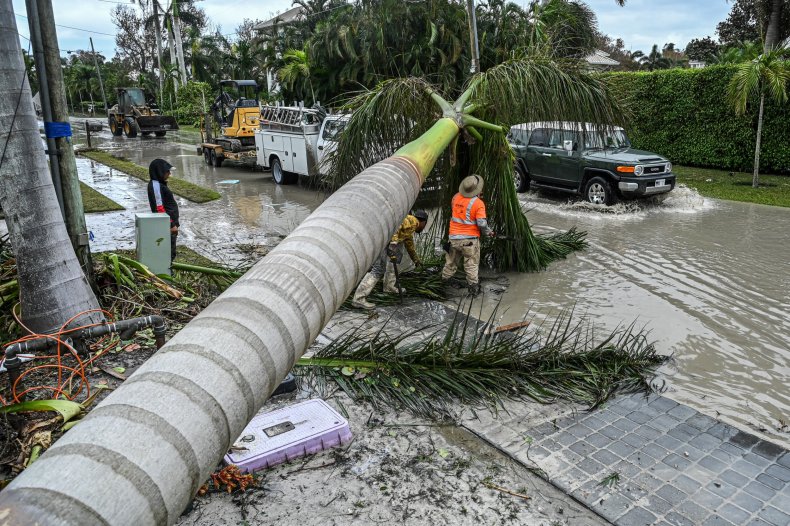 In Naples, where flooding is driving people from their homes and badly damaging the historic Naples Pier, an Australian cameraman interrupted coverage by sprinting to help hurricane victims. A Video his rescue efforts were widely publicized on social media.
Glen Ellis, a cameraman for Australia's Channel 7 News' sunrise morning show, was filming correspondent Tim Lester as he set his camera on the ground and got caught in a muddy flood on Wednesday. In the background of the shot, residents struggled to cross the water while carrying their children, water and scanty belongings.
"We're just helping a few people through the water here," said Lester, who was now out of frame as the camera was at his feet. "That's our cameraman Glen Ellis out there I think you can see trying to help people who are wading from their homes."
Ellis ran into the flood three times to help stumbling residents carry their belongings. At one point a person fell into the water and he helped them back up and supported them until they reached higher ground.
Meanwhile, Lester continued, "We've spoken to a few of them and they've already told us that their homes were lost in the water.
When the cameraman returned and aimed his camera at Lester again, the correspondent said, "Well done Glen."
After the segment aired, Lester added on Twitter: "In forty years, a cameraman has never run away during a live intersection. Right on Glen. Good call."
Viewers of the clip also shared their appreciation for Ellis on social media, calling him a "legend" and a "hero."
news week reached out to the Sunrise show for comment.
https://www.newsweek.com/hero-cameraman-helps-hurricane-ian-victims-live-tv-1748053 'Hero' Cameraman Helps Hurricane Ian Victims On Live TV