Herschel Walker's resurfaced video shows how attitudes towards racism have changed
A video of Herschel Walker describing racism as "the hardest thing I've had to overcome in my life" has resurfaced ahead of next month's Senate runoff in Georgia.
Walker, a former NFL star-turned-Republican Senate nominee, is hoping to unseat Democratic Sen. Raphael Warnock on Dec. 6.
Ahead of this month's midterm elections, as part of his attacks on "awakened" culture, Walker downplayed charges of systematic racism in America, once saying, "You're not racist unless you're 185 in today's world. "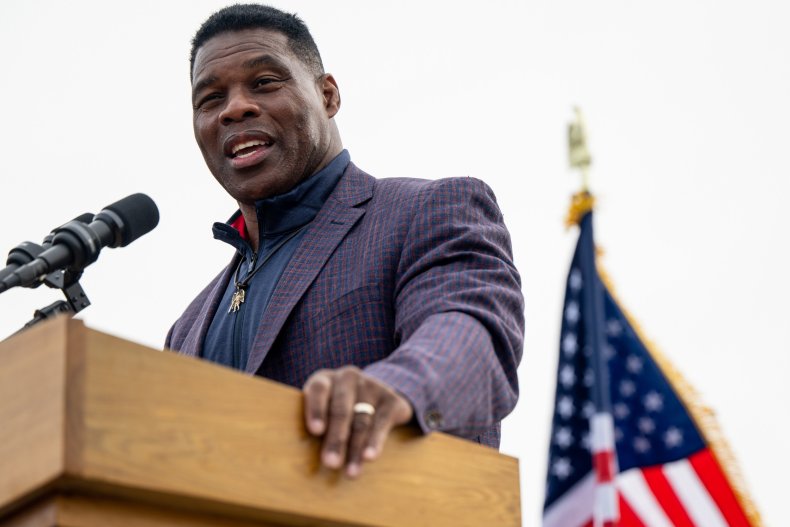 As a younger man, however, he had a very different perspective, according to the video posted to Twitter by Patriot Takes, a 448,000-follower account dedicated to "exposing far-right extremism and other threats to democracy."
In the clip, Walker is asked, "What was the biggest challenge you faced?"
He replied: "The hardest thing I think I've had to overcome in life – I think racism."
He continued, "I think this is so difficult because I don't think anyone can ever understand it. It's not the point where people don't want to understand it, but they don't want to touch it. So, like, this is a topic we can't touch, let's get away from it. But you know it's there, and while it's there you have to deal with it.
news week could not verify when the interview was filmed, although it clearly shows a much younger Walker.
Patriot Takes originally said the video was recorded in 1981, but this was later deleted. A Twitter user had Leave a Commentd: "One notices immediately that this is not from 1981."
In 1981, Walker played college football at the University of Georgia. He joined the NFL under the 1985 draft.
Speaking at a car museum in Young Harris, Georgia, in October, Walker made the remark about racism and people aged 185.
"You have to be 185 years old because you have to learn that from your parents because maybe they don't know any better, and that's fine," he said. "You are not a racist today because they have television, they have the internet, they have something else to show you that we are all the same. So you are not a racist. You're just stupid."
Former President Barack Obama will run for Warnock on December 1, just days before Georgia voters go to the polls for the second time.
On the GOP side, Georgia Lieutenant Governor Geoff Duncan has urged Donald Trump not to promote Walker in the state, arguing it would hurt his campaign.
The Republican advised Walker to "call Mar-a-Lago and ask Trump to stay home," according to CNN.
Earlier this month, another video of Walker garnered a lot of attention. During a campaign speech in McDonough, Georgia, he spoke about vampires and how he "wanted to be a werewolf" because "a werewolf can kill a vampire." The Senate candidate who made the remarks while discussing the horror film Terrible nightShe also said that "vampires are cool people".
The video went viral on Twitter, garnering over 1.8 million views and being mocked on social media.
news week has reached out to Walker for comment.
https://www.newsweek.com/resurfaced-herschel-walker-video-reveals-how-opinion-racism-has-changed-1761401 Herschel Walker's resurfaced video shows how attitudes towards racism have changed