Herschel Walker's story about bulls dumping pregnant cows raises eyebrows
On the stump, Republican Senate candidate from Georgia Herschel Walker has attempted to act folksy and down-to-earth in a bid to topple incumbent Atlanta Senator Raphael Warnock.
But in light of recent revelations, the anti-abortion activist has paid for an ex-girlfriend's abortion and reportedly denied the existence of several of his children, one of the regular anecdotes he uses on the trail – a tale of a bull jumping the fence for something better – has aged about as well as milk.
Walker — the 1982 Heisman Trophy winner as Georgia Bulldog running back — campaigned with Republican Senators Tom Cotton and Rick Scott in Carrollton on Tuesday, regaling the crowd with a slew of anecdotes about religion, inflation, "wokeism in the military" and rising Crime rates and its odds in next month's election.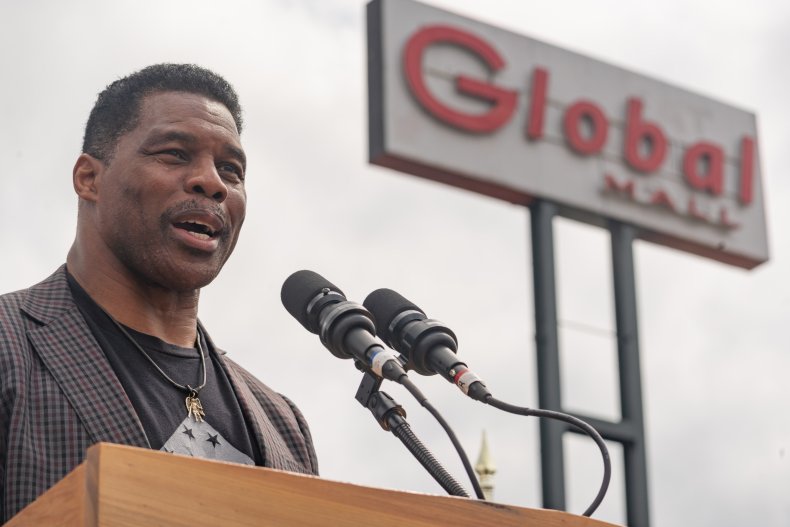 But of everything he discussed in his brief speech in the small northwest Georgia town, it was his closing remarks that seemed to garner the most attention online: a story of a bull with six cows running with a smiling Cotton and Scott behind him began.
"Three of them are pregnant," Walker begins, "so you know he's got something going."
Cotton immediately stops smiling.
"But all he cares about is [keeping] with his nose to the fence and looking at three other cows that he doesn't own."
The cow eventually decides she's ready to move on and jumps the fence, only to find that the cows on the other side of the fence weren't females – as the bull initially believed – but bulls like him. Walker said the story was meant to illustrate that the grass isn't always greener on the other side.
"So I'm telling you," he concludes, "don't think anything is better anywhere else."
Others didn't see it that way after a disastrous multi-week period that saw Walker forced to face additional allegations that he had misled the public and his own campaign about his past.
It was reported over the summer that Walker had fathered several children he had allegedly previously failed to acknowledge, breaking with his own previous claims that fatherless homes were a "big, big problem" in black communities. Then, this month, The Daily Beast reported that Walker – an anti-abortion advocate – had paid a woman he had gotten pregnant to have the procedure, a revelation that drew criticism from his own son.
Some on Twitter immediately noted the bull anecdote's seemingly autobiographical connotations, with one user quipping that it was "definitely smart of him to continue telling a story about a bull impregnating multiple cows." Others said Walker missed it of self-confidence, noting that the number of pregnant cows in the story – three – corresponded to the number of women he had impregnated who were not his wife.
news week has reached out to Walker's campaign for comment.
https://www.newsweek.com/herschel-walkers-story-about-bull-ditching-pregnant-cows-raises-eyebrows-1750944 Herschel Walker's story about bulls dumping pregnant cows raises eyebrows