Hiker rescued after 'Bear Cam' viewers saw him on livestream
Viewers of a wildlife livestream hoping to see one of Alaska's famous "fat bears" earlier this week discovered a very different creature – a lost human wanderer.
During the summer months, viewers flock to the park's livestreams to watch brown bears fatten up for hibernation. Dumpling Mountain's "Bear Cam" offers a look at a landscape that was shrouded in fog and without much action on Tuesday.
That changed with the sudden appearance of a soaking wet hiker, arms folded, hugging himself in the cold. Footage shows him approaching He looks into the camera and says a few words, although he cannot be heard clearly in the audio.
Viewers quickly realized that something was wrong. Some thought they could see the words "lost" and "help me" on his lips, and he also gave a thumbs-down gesture at the camera. according to BBC.
"Someone is desperate on the camera," one viewer commented at 3:15 p.m., according to the BBC. Some contacted Explore.org, the organization that works with the park to provide the livestreams.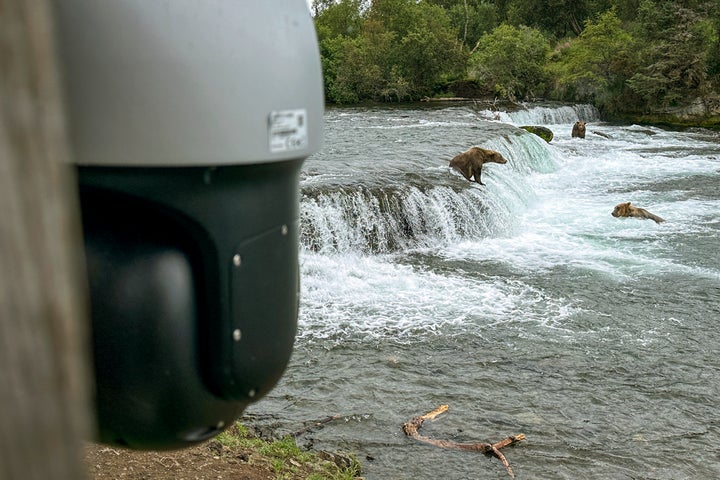 Park rangers managed to get to the Dumpling Mountain site, where there is no cell service, and brought the hiker to safety.
"The park dispatched a search and rescue team to find the hiker, who was trapped in windy and rainy conditions and poor visibility," said Cynthia Hernandez, spokeswoman for the National Park Service told the Washington Post. "Park rangers found the hiker uninjured several hours later and brought him back to safety."
While the rescue was underway, Explore.org naturalist Mike Fitz urged the hiker to stay put in a recorded message played over the camera.
The camera is located just 2 miles from a visitor center at the park's Brooks Camp, but "it can feel like a world unto itself," Fitz said USA Today. As altitude increases, the weather gets worse, and "because the weather is so severe, it's really difficult to orient yourself," he added.