Horowitz: Forget the cartels, Biden is letting illegal immigrants fly directly into US airports
How do you force a government that wants to bring the world's criminals to our shores to actually secure our border?
Maybe that's the wrong question. It's not actually about a secure border. It's not about money, infrastructure or a wall either. The reason that virtually the entire third world appears to be crowding the southern US border is because the Biden administration has done so invited It.
This means the issue is no longer about "border security," but rather about the federal government undermining the sovereignty of its own people.
Nothing illustrates this more clearly than new data showing that Biden is quietly flying hundreds of thousands of people into the country, bypassing border checkpoints entirely.
But even as the border invasion worsens, the numbers are not high enough for a government that is clearly trying to replace its own population. The administration wants more.
New data received from the Center for Immigration Studies (from a dispute with the Department of Homeland Security via a Freedom of Information Act request) shows that the Biden administration flew 200,000 illegal immigrants into our airports between October 2022 and September of this year.
DHS encourages new arrivals to apply for parole through the CBP One app, which is why we are seeing record numbers at ports of entry. However, it is less reported that the app is also used to fly illegal immigrants directly into the country.
Todd Bensman, a Texas-based senior CIS national security official, reported this week that illegal aliens can apply for parole through the app. They then receive permission to fly anywhere in the United States. Upon arrival, a foreigner shows the app to a customs officer, who releases him on probation without being seen. It is essentially an ad hoc extra-statutory visa program. Beneficiaries include arrivals from Cuba, Haiti, Nicaragua, Colombia and Venezuela.
Based on data presented to the CIS, in the last ten months, 221,456 illegal immigrants were granted permission to hop on the airborne conveyor belt instead of the land-based route.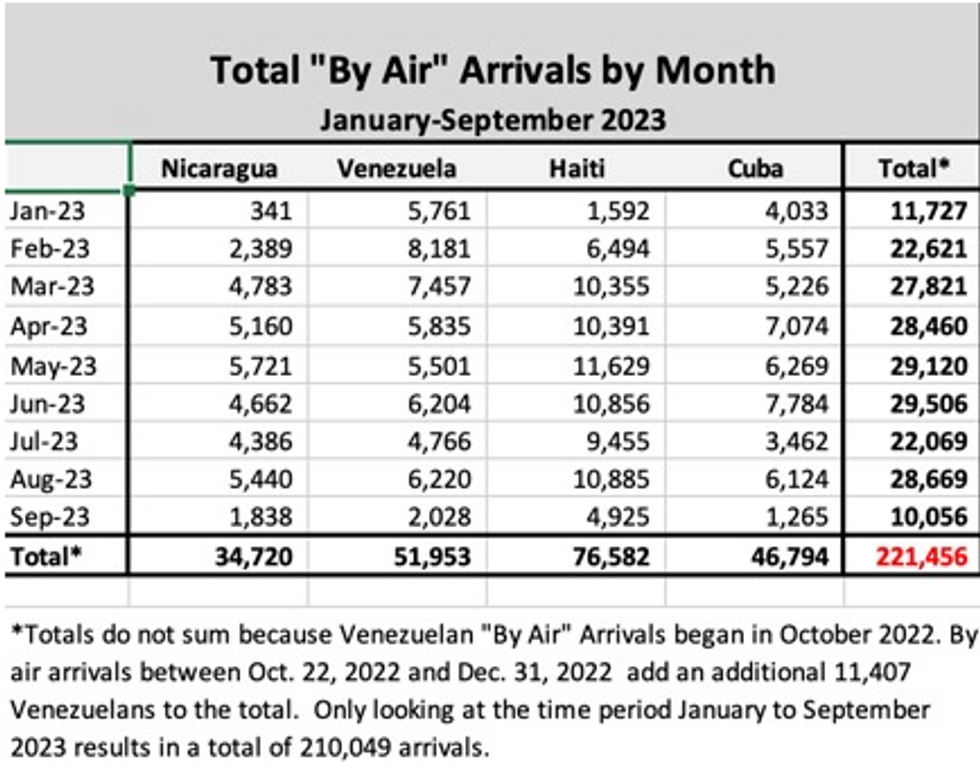 Unlike land border encounters, these figures have been hidden and are not included in the monthly border figures, which were only recently published. We do not have any information about the destinations and airports used for this conveyor belt. This means that thousands of unvetted people from volatile parts of the world can decide where they want to land, and local authorities are completely in the dark about the nature or even existence of these people.
How many of these tattooed, military-age men from Venezuela and elsewhere were released from prison specifically by Nicolas Maduro to undermine America?
This revelation shows that we are no longer facing a "border crisis" or a logistical problem of "illegal immigration." This is an artificial invasion larger in number and scale than ever before in human history, and for the first time ever, it is being orchestrated by our own government.
The Biden administration is taking the position that to "combat illegal immigration," it will simply turn all 8 billion people on earth into potential legal immigrants. The administration glosses over this theft of sovereignty without congressional approval – as if such a thing were possible – as "legal ways." Now officials have violated and granted the terms of "temporary protected status." more than 472,000 Venezuelans indefinite probation, which is not permitted by law.
Under these circumstances, Republicans would do well to stop focusing solely on border funding, border policing, the wall, or even the cartels. This is not a "natural disaster" that requires increased forces and special resources. Nor is it primarily an external threat orchestrated by the cartels, although they will obviously benefit from it.
No, this is a deliberate and methodically crafted plan to destabilize our people, our culture, our economy and our cohesion by our own federal government.
The only way to combat the crisis is through internal government enforcement.
Let us not forget that the border question has always been more about the states than about the "international border" itself. Even within the border states, very few invaders remain near the border. They are wreaking havoc on communities, and even ultra-liberal blue city officials like New York Mayor Eric Adams are now making this abundantly clear.
We already have large numbers of autonomous illegal alien communities, such as Colony Ridge east of Houston, populated by tens of thousands of illegal immigrants, including cartel activists. Earlier this year, a Honduran citizen was from Colony Ridge charged with the murder of five people.
Todd Bensman, the first report on Colony Ridge chronicled the culture of violence in the community that was once part of Norman Rockwell's rural America but is now a place where guns are fired at all hours of the night. Possibly 35,000 people live in Colony Ridge, a Landmass 50% larger than Manhattanin a county where the official population is less than 100,000.
How many Colony Ridges are there in the United States? And how many more will pop up in just a few years, with thousands – or hundreds of thousands – more people?
An average of 10,000 illegal immigrants now enter the United States every day, not to mention "refugees." That's an annual pace of more than 3 million people, with another million or so taking "short vacations."
Especially in the last three weeksMore than 100,000 of these predominantly male potential belligerents were released by the Border Patrol into the interior of the United States. We simply cannot wait until January 20, 2025 to address the crisis. Red states are now the only way to stem the tide.
America's Founding Fathers, who were at the heart of the Declaration of Independence, castigated King George III. proposes to incite Indian belligerents on the country's emerging border. Consider that today the federal government – ​​our new King George – is inviting a foreign population larger than that of the United States all colonies together in 1776 in just one year.
Would those original states ever have formed a national government and believed they would be powerless to protect themselves from this kind of betrayal from the body charged with guarding the social contract?
To ask the question is to answer it.