Horowitz: South Carolina's RINO Pledge of Allegiance and the Next Great Conservative Fight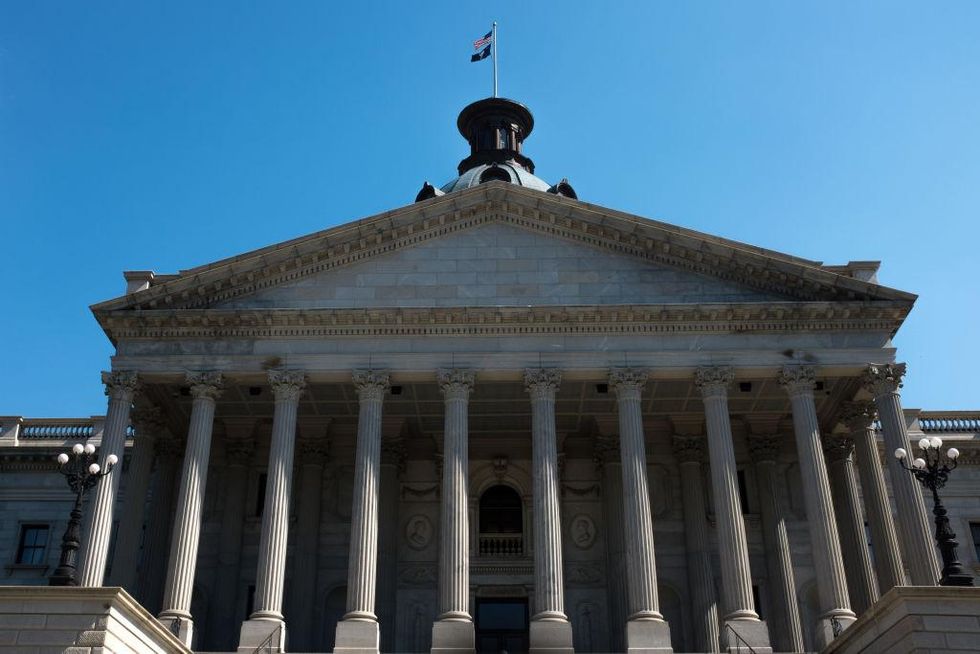 Like so many red states that consistently vote Republican, elected Republicans in South Carolina have failed for years to reciprocate that loyalty to Republican voters. After all, it's the state that sends the likes of Lindsey Graham, Nancy Mace and Joe Wilson to Washington. Wilson just introduced a bill to unveil a bust of Ukraine's president in the Capitol. But the state legislature is no better as the RINOs squander solid supermajorities GOP voters just delivered. Now that gulf between voters and party elites appears to be widening.
Buoyed by a promising election result, Republicans were looking forward to strong supermajorities in both chambers at this session. The Republicans won seven seats in the House of Representatives in November and now command a majority of 88 to 36, the largest they have ever received. The Senate was not up for election, but Republicans already have a 30-16 majority, and combined with the governorship, they should have a free hand to govern in accordance with the values ​​of the majority of voters in the Palmetto State. Unfortunately, like almost every superred state, elected Republicans reflect the values ​​of Lindsey Graham more than Ralph Norman, the only SC Republican who joined the rebellion against Kevin McCarthy last week.
As part of a growing statewide trend thanks to the State Freedom Caucus Network, conservatives in the South Carolina state house formed a 20-member Freedom Caucus to better direct a conservative agenda on issues such as school choice, gender-based mental health and medical freedom. But to pass that agenda, they would have to contend with downright hostile GOP leadership and a clearly unhelpful governor. Here the Empire tried to strike back.
House Manager Davey Hiott and Tommy Pope have taken an oath of allegiance requiring members to sign a document promising "not to engage in campaign activity of any kind against another caucus member in good standing." They also urge members not to take photos of the voting body to share on social media or share inside information with outside Conservatives. Members were barred from attending Tuesday's caucus unless they signed the document.
The point about sharing voting records speaks to the ruse that has been concocted by nearly every Red State leadership team for years. They campaign as Conservatives to win the primaries, specifically leveraging the issues of guns and abortion, but then serve as conduits for the Chamber of Commerce, the health care cartel, and woke corporations during meetings. They want to keep the appearance of being a conservative while doing the opposite in politics, which is why they are so frantic to suppress any focus on voting records. They know that few voters focus on state legislation and try to keep it that way. The last thing they need is a barrage of calls to their offices demanding that they actually govern their red states like the Democrats govern in California.
As for the promise to fight against incumbents, it is superficially reasonable to demand unity between sitting members in a two-way manner. The problem is that there is no simultaneous oath of allegiance that these other members will actually govern like conservatives instead of serving as vassals for awakened corporations. The moment they sign our pledge to govern as Conservatives, it will be much easier not to commit to the primary RINOs.
take mine List of medical freedom ideas, for example. Ideally, each of these items should easily pass the Republican legislature with an overwhelming majority. But since most judiciary or health committee leaders are owned by the lobbyists, they are no novices.
Just like their DC counterparts, the state party leaders must stop being pot plants on the GOP's corporatist plantation and use their influence to force the GOP onto our plantation. They do this by creating a tipping point where voters realize that there is indeed a split within the party. The only way Republicans can continue to placate conservative voters and the special interests at the same time is to encourage false unity and a lack of transparency and debate in the legislative process.
To that end, the state freedom factions should remain united and not allow their members to be picked off individually. They must use leverage to force agreements, to hold votes on the critical issues of our time. We already have a Democratic Party, along with a number of states where conservatives have no voice. In the remaining states where Republican voters dominate, their will should prevail.
https://www.theblaze.com/op-ed/horowitz-the-south-carolina-rino-loyalty-oath-and-the-next-big-conservative-fight Horowitz: South Carolina's RINO Pledge of Allegiance and the Next Great Conservative Fight