Horowitz: The energy crisis is worse than you think – and it's intentional
We cannot wait until after the election to deal with a looming winter power crisis. Republicans must make demands on power generation in the current budget to promote nuclear and coal-fired power plants, end all the onerous regulations that have stifled their productivity, and boost our natural gas delivery capacities. Anything less than an immediate deregulation plan will leave Americans in the same predicament as the Europe they are discussing group showerseating bugs, and drinking sewageas face a $2 trillion surge in electricity prices.
Thanks to the controlled extraction of coal and nuclear power, there is record demand for natural gas to generate electricity. And while our natural gas production and exports are at record levels, they are not as high as they should be given regulations and pipeline choking, and not enough to offset the sudden embargo on all Russian gas supplies. For this reason, supplies are located in underground deposits operate well below baseline of the pre-COVID years.
As such, the Energy Information Administration predict a 7.5% increase in electricity tariffs over the course of 2021, ahead of the next man-made or man-made global crisis. However, in parts of the Northeast, rates have already more than doubled due to insufficient pipeline systems, and many proposals on the table have been blocked for years. New England gets almost no electricity from coal no longer and relies heavily on natural gas. But the same states have also banned fracking and gas pipelines! Without a robust infrastructure for transporting and storing natural gas, which the Northeast lacks, people have not been able to reap the benefits of increased natural gas production. Rather than pipe the gas directly from the Marcellus Basin, New England imported gas from Russia!
Our existing natural gas production would have been sufficient if our government hadn't deliberately torched our coal industry for a decade and then decided to wage a mindless war with Russia without a contingency plan. In the US, coal accounted for about half of our power source just 15 years ago, but has declined sharply due to destructive environmental policies. Now it's just accounts 21% of our power source, so shocks to the system will hurt American consumers. However, with reduced stock levels, we are struggling to cover even a small percentage of our network at affordable rates. That price of thermal coal is now at an all-time high of $439 per tonne.
Our electricity generation from coal-fired power plants is Down by almost two-thirds since 2008. Thanks to numerous regulations during the Obama administration 250 coal-fired power plants were closed between 2010 and 2017we only have 240 left less than a quarter of China's inventory. Although our recoverable coal assets are enormous – 60% larger than China's reserves – Our coal power inventory is between 85 and 90 million tonnes, down over 30% since 2020 and over 50% since 2016 the US Energy Information Administration.
As you can see, our production is at a record low, as are our stock levels: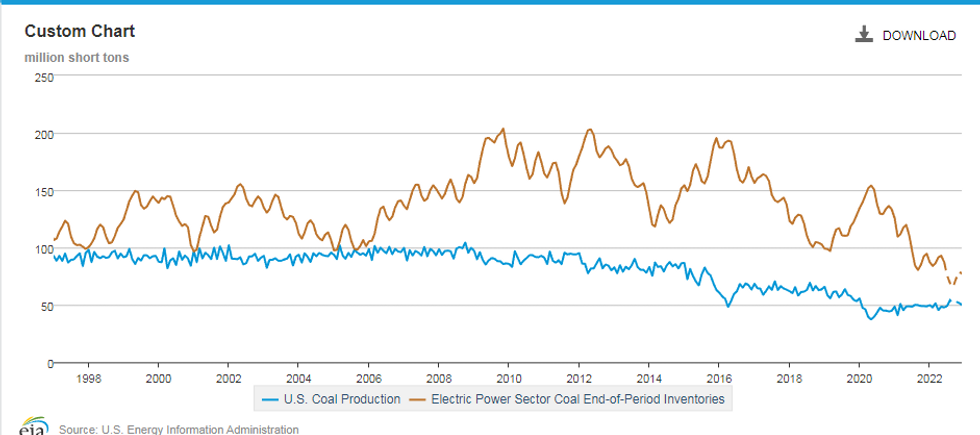 It would be one thing if our government planned ahead for its coal destruction by ramping up natural gas pipelines and building more nuclear power plants. Finally, if clean energy is the goal, these two are great candidates for clean and effective energy sources. But that's clearly not the goal. Scarcity is the goal. Thanks to endless regulation by the same people who claim to want clean energy, no new nuclear reactors have come online in decades, while scores of others have been shut down. It was at the end of 2021 93 active reactors, down from 104 a decade ago. Our monthly nuclear energy production is 5% less than 2019.
The only forms of energy that have increased at a painful cost to taxpayers are solar, wind and electric vehicles. However, they are powerless in our time of need, and the obsessive drive for electric vehicles to reduce gas mileage is further exacerbating electricity loads, which are even scarcer, and diminishing the already small benefits of green energy that relies on batteries (now in great scarcity) to run.
During the California heatwave, you might have thought Californians had enough solar energy to power the entire state given how much they invested and how strong the sun was, especially during those hot days. But like the Washington Post reportsso much of it was wasted because the batteries and transmission lines needed to bring in solar power are too expensive, especially given battery shortages (per se due to mining regulations as well as artificial demand for electric cars).
At some point it becomes clear that this is done on purpose. State regulators are cutting off all useful energy sources and stalling the weak grid of renewable energy with further demand just as they are shutting down all Russian energy. To top it off, Biden has spent nearly 40 years depleting strategic oil stocks drove into the winter. It can't all be an accident. To quote Diederik Samsom, Chief of Staff to Frans Timmermans, Executive Vice President of the European Commission: "For the two basic necessities of life – food and energy – we have paid far too little for the last 40 years." In other words, this is what is happening on purpose.
Where are the Republicans in all this? Why don't they withhold the Senate budget bill until the Inflation Reduction Act, which imposed numerous taxes and duties on oil and gas exploration, is repealed? One of the provisions provides for a "methane fee" that some estimate will single-handedly increase consumer gas bills by 17%. The tax applies not only to oil production, but also to the transmission, storage and export of natural gas, which is the worst thing to do at a time of record high natural gas prices.
In addition, the draft law has created all sorts of new incentives to promote electric vehicles, which not only will not defuse the energy crisis, but will exacerbate it. It has become clear that the electricity crisis is an even bigger deal than the rise in gas prices. Electric vehicles will create a tsunami of new demand on the electricity grid at a time of record high prices, after people are already being forced to pay fortunes for the vehicles. We're already witnessing this dynamic — one green fascist policy meeting the headwinds of another — in California, where network operators advised people not to charge their vehicles during the heatwave.
At a time show polls More Americans than ever do not believe in the global warming narrative, Republicans continue to agree with its premise and even pass new harmful anti-consumer policies based on their agreement with pseudoscience, just as they did with the response to COVID to have.
https://www.theblaze.com/op-ed/horowitz-energy-crisis-design Horowitz: The energy crisis is worse than you think – and it's intentional