House Democrats bail out McCarthy in fight to shut down government with Republican Party
The House of Representatives passed an emergency funding bill Saturday afternoon to avert a looming government shutdown, implemented largely with bipartisan support from Democrats.
The House had struggled in recent days to pass a federal funding measure, risking the shutdown of the government and many of its vital services. The process was largely stalled by the far-right, MAGA-aligned members of the House GOP, who demanded significant spending cuts that were unlikely to gain bipartisan support. Given Republicans' slim nine-seat majority in the House, those few members were able to stall House Speaker Kevin McCarthy's efforts to reach a deal.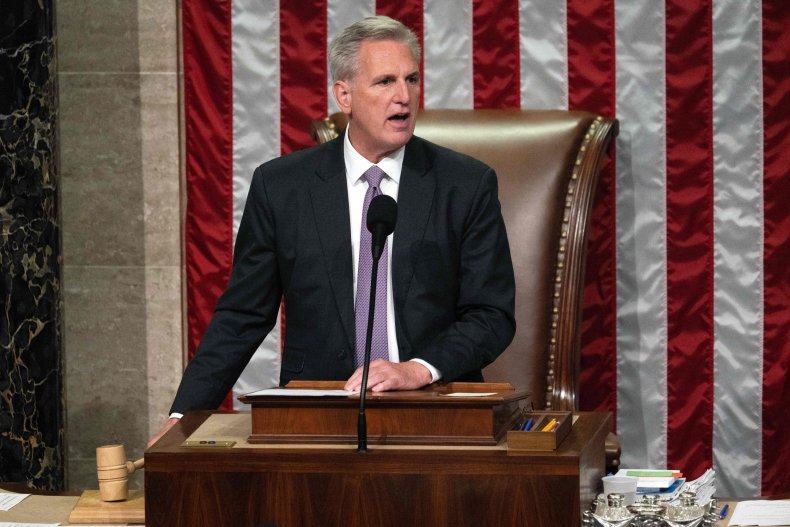 The measure passed Saturday is a temporary measure that maintains funding for the government for 45 days and allows Congress to continue developing a long-term spending agreement. It passed successfully by a vote of 335 to 91, receiving strong bipartisan support from Democrats. Just over 200 of them joined Republicans to save McCarthy's failed effort. Of the 91 votes against the measure, 90 were Republicans.
Members of the far-right flank of House Republicans, including Rep. Matt Gaetz of Florida, have threatened to vote to remove McCarthy as speaker if a measure passes with certain bipartisan compromises, including more funding for aid to the Ukraine in the face of the ongoing Russian invasion crisis.
To secure the votes for speaker with his slim majority earlier this year, McCarthy made numerous concessions to Gaetz and his colleagues, some of which made it easier for members to submit a motion to resign.
Newsweek emailed McCarthy's office seeking comment.
This is a breaking news story and will be updated as more information becomes available.